If you're looking for the best cold air intake for Chevy Silverado 1500, you have come to the right place. Every intake on this list will improve the performance of your engine by replacing your stock intake. Better gas mileage and better general engine performance are hallmarks of the cold air intake and make for a small improvement that can go a long way with your Chevy. Especially when paired with a quality tuner/programmer, you can see some impressive gains.
6 Best Cold Air Intakes for Chevy Silverado 1500
"As an Amazon Associate, I earn from qualifying purchases."
The best cold air intake for Chevy Silverado 1500 trucks is made by K&N. K&N is a car filtration company that sells air filters, air intake systems, oil filters, and cabin filters. They are a trusted brand in the marketplace and a go-to for many drivers. K&N is also used on many of the highest-performance vehicles in the motorsports industry. For years, they have been supplying racers with high-quality parts for their vehicles.
This particular kit is designed to improve throttle response, engine noise, and engine sound all in one simple to install intake. K&N estimates that your engine could gain as much as 10.68 horsepower (tested at 5341 RPM) with this great product. The part installs in less than 90 minutes and replaces your entire factory air intake. To make this air intake even better, it can easily be installed using a couple of basic hand tools. The tube is aluminum, so you know it is durable and high performing. It even has a 10-year, million-mile warranty to secure your investment. The filter included with this K&N air intake can be cleaned, but it will only need cleaning every 100,000 miles under normal highway driving conditions. This air intake will not void your vehicle warranty and will work best with additional modifications.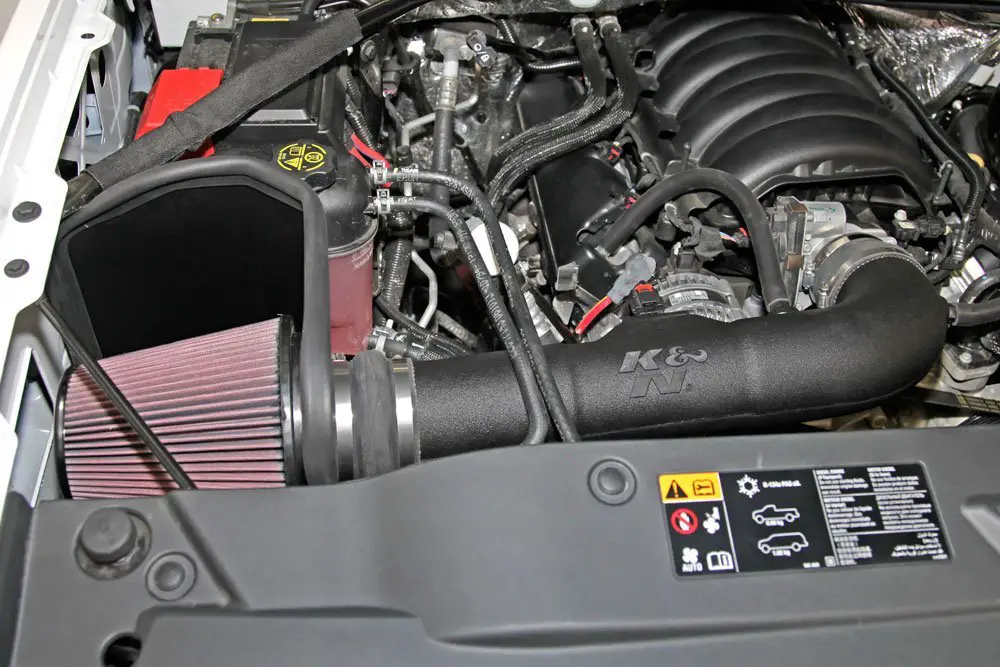 This particular product has earned itself a 4.5 out of 5-star rating with Amazon reviewers, pointing to a quality product. Many users note that they love the "growling" sound that this intake makes, although it isn't obnoxiously loud. They also notice an immediate change in fuel mileage with an improvement of about one or two MPG. All told, this is the best cold air intake for Chevy Silverado 1500 trucks, and there's no doubt you would be thrilled to own one.
Pros:
Guaranteed To Increase Horsepower
Million-Mile Warranty
Cleanable Air Filter
Extended Maintenance Life
Cons:
Our best-enclosed air intake system comes from S&B Filters. The company makes performance filters, cold air intakes, UTV particle separators, and intake elbows that keep your vehicle breathing easy. Their filtration is well-respected by motorists, and they are a trustworthy firm to purchase from.
This intake system is special in that it is enclosed for maximum breathing. The part is made of silicone, a premium rubber that can withstand plenty of wear and tear and won't crack under your truck's hood. The mass airflow sensor is also of great design as it is made of billet-machined aluminum with a mounting adapter for easy and proper installation. S&B is also going to provide installation instructions, an installation video, and dyno results to show you just how much power you can expect to see by adding this air intake system to your Chevy Silverado.
With an enclosed air intake box, the air filter on this air intake is better protected from heat, damage, and foreign materials. This means you will not have to worry about your intake filter getting as dirty as exposed air filters. The air intake box features a nice plexiglass window at the top of the box for both custom looks in your engine bay as well as an easy way to see the condition of your filter.
According to reviewers, this S&B product is highly desirable. It has been rated a 4.6 out of 5 stars on Amazon by customers who say that this product clearly helps their engine run more effectively. They like the way it sounds and loves the change in throttle response that they feel. Others note that the engineering that went into the product is top-notch and stands up to the call for being one of the better cold air intake systems for Chevy Silverado 1500s that they can find.
Pros:
Enclosed Air Intake Box
Beautiful Plexiglass Cover
40% More Air Flow
99.15% Efficiency Rating
Cons:
MAF Could Be In A More Discreet Spot
aFe's cold air intake makes our list because it is an outstanding dry filter option. aFe creates high flow, high-performance air filters, and cold air intakes for many makes and models. Their products are highly sought after and highly touted.
This intake option outflows the Silverado 1500's stock intake by up to 35%, producing an additional 12 horsepower and 15 ft-lbs of torque. It features a five-layer oil filter for maximum airflow with maximum protection as well as housing for further protection and noise reduction. This product is unique on our list because it is the only dry option, meaning that it should work better in heavier, dustier conditions.
One of the best advantages of going with an aFe cold air intake for your Chevy Silverado is that they offer many supplemental components that will help your intake make even more power. Choose from aFE exhaust kits, headers, tuners, and much more. These will help you get the most power out of your Chevy Silverado while upgrading the looks as well.
This product has received some of the highest reviews that you could ask for out of one of the best air intake for Chevy Silverado 1500 options that we have on our list. At 4.8 out of 5 stars, Amazon reviewers have made it clear that this product is exceptional. Customers love the growl that their engine makes with this product, as well as the gains in fuel efficiency that they see. This intake clearly is a high-quality product for improving your Chevy's engine performance.
Pros:
35% Flow Rate Increase
Box Can Be Sealed With Included Urethan Plug
50 State CARB Legal
Cons:
Design Could Be A Little More Appealing
Next on our list is the best air dam cold air intake system on the market coming from the minds at Airaid. They craft performance air intakes, drop-in replacement air filters, and custom air intakes and components for increasing the performance on your vehicles. Their brand is as strong as any other, offering a solid reputation and even more solid performance.
This air dam intake system is unique in that its design keeps it from sucking warm air from your engine than other intakes may still be prone to using. This is accomplished with a box around the air filter that is open on the side that is away from the engine, letting your air filter grab only the coolest air around it. The product is made of the finest polyethylene, so you know it will last.
Airaid provides dyno sheets of their testing of this cold air intake which shows a horsepower gain of approximately 9.11 at 5,000 RPMs. So not only are you getting a high-quality, great-looking cold air intake for your truck, but you are also getting additional power. Installation is very easy, coming in at 90 minutes with a few hand tools, making this a great way to upgrade your truck in less than 2 hours.
Customers who go with this product seem to really love it as it has managed to amass a 4.3 out of 5-star rating on Amazon. Most of all, those who have installed this intake on their car have noticed an immediate four to six MPG increase. They also say that they saw a noticeable uptick in horsepower that brought their engine some extra power. All told, it looks like this product is a definite contender for the best cold air intake for Chevy Silverado 1500s.
Pros:
Very Attractive Design
Superior Horsepower & Acceleration Gains
Washable & Reusable Air Filter
Cons:
Our next cold air intake comes in the form of Volant's enclosed model. Volant makes award-winning filters, intakes, and exhausts that are great for any vehicle. Their products are especially reputable in the off-road racing industry, so we can only imagine how their engineering outperforms the competition on paved roads.
This Volant product operates much like many other cold intakes. It increases air volume, airflow, horsepower, and torque. However, it also has the added benefit of having a very easy-to-wash filter. Cold air intakes normally have washable filters on them but this Volant model is especially easy to remove and clean, providing simplicity that you will enjoy during usual vehicle maintenance.
This intake, much like others on this list, is going to feature an enclosed air intake box to keep your air filter protected. The design featured on this air intake box is unlike any other, giving your engine bay a one-of-a-kind look. The black, textured air intake tube does a great job matching your engine bay components to give a factory-like look when adding this cold air intake in.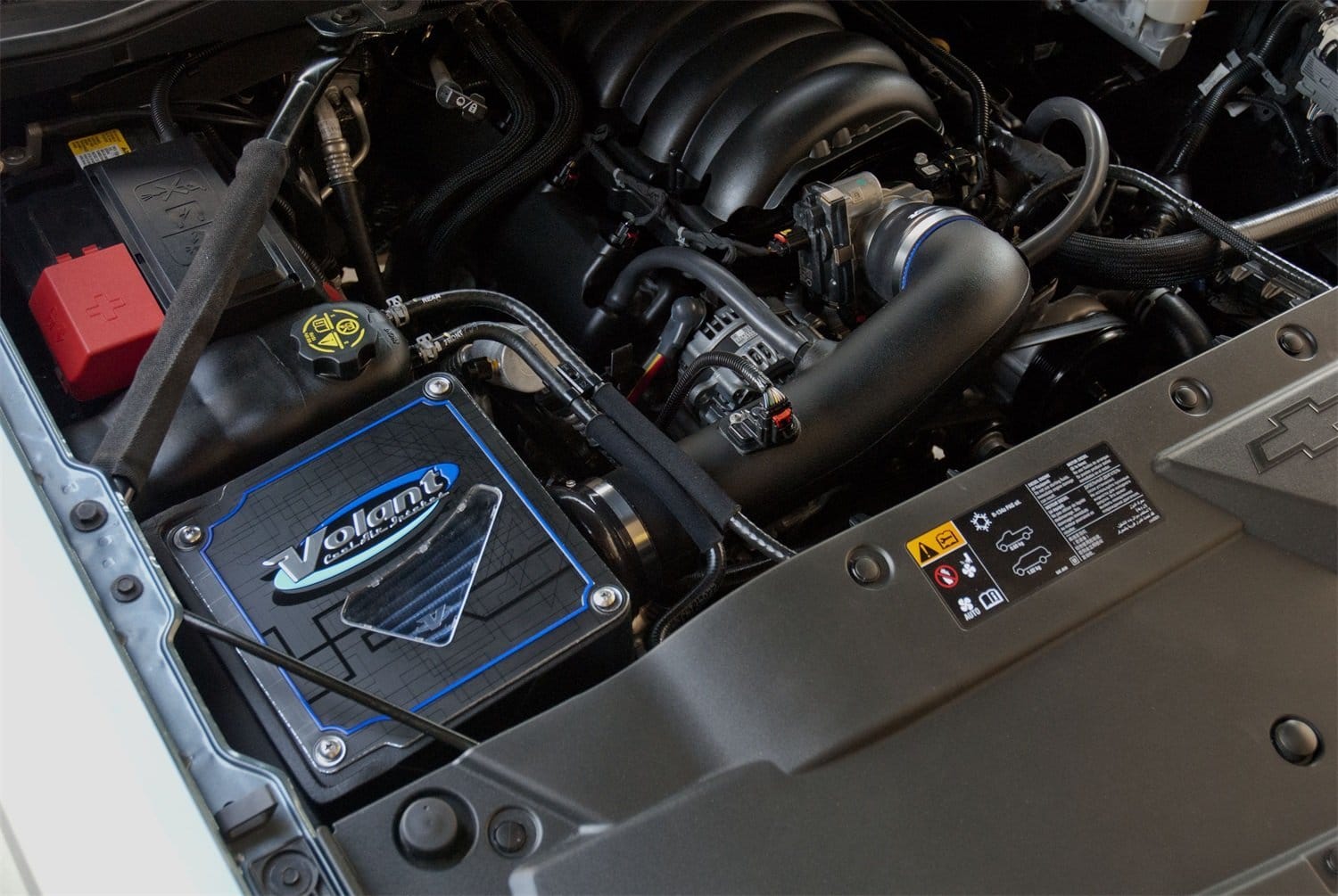 Looking to reviews of this product, it appears that there are many motorists who are completely satisfied with their purchase. They noticed that their filter gave them immediate MPG and horsepower gains. A few noted that they wished that the box enclosing the filter wasn't plastic, although nobody had mentioned that they had any issue with it cracking or breaking. Altogether, this Volant intake is a great purchase.
Pros:
Enclosed Air Filter Box
Easy To Install
Increased Horsepower & Torque
Cons:
Air Intake Box Design May Not Be For Everyone
Spectre's air intake makes it onto our list for being a high-value product with a low price. Spectre specializes in air intakes, air filters, air cleaner assemblies, and throttle body spacers so, clearly, they have an interest in getting your car to breathe easier. You may have seen their products at your local auto-store as they are one of the most popular brands found on shelves. They offer many universal fit pieces to allow you to make your own cold air intake. However, this 9006 intake is made specifically for your Chevy Silverado.
Coming in at just $150, this intake is designed to give you the same great benefits of other intakes for a lesser cost. With this intake installed, you will see better MPG, better horsepower, and better torque. The intake is made of a polished aluminum tube, a red Spectre air filter, and a powder-coated steel heat shield. The shield serves the purpose of blocking heat from getting into your intake. The polished aluminum tube featured on this cold air intake is a great way to spice up your truck's engine bay and give it a custom look.
Spectre Performance 9006 Air Intake Kit – Best Air Intake Bang for your Buck Under Hood[/caption]
Amazon reviews of this product confirm that you will be receiving a high-quality product for less with this purchase. In fact, this Spectre intake has the highest rating out of any intake on our list at a 4.7 out of 5-star rating. Customers love the growl that they hear under the hood with this intake and say they noticed they were consistently getting better gas mileage after installation. Clearly, this intake is just as good as any despite being sold at a lesser price.
Pros:
Improved Engine Sound
Very Affordable
100,000 Mile Maintenance
Cons:
Aluminum Finish May Not Be For Everyone
Cold Air Intake Buyers Guide
We've put together a few things you should be considering for yourself as you go to buy a cold air intake for your vehicle. You should find that these considerations are important in order to find the right part that is right for you.
 – Cold Air Intake Benefits
The benefits of having a cold air intake installed on your ride are numerous. All of these benefits start with the fact that your engine will be getting cold air to ignite.
First, you will get increased acceleration since there will be more air available to your engine. Aftermarket intakes simply provide more air to the engine in an effort to let your engine breathe more.
Second, you will get far better fuel economy. It takes less fuel to ignite cold air so a cold air intake is automatically better for gas mileage. Stock air intakes are designed to be quiet instead of fuel-efficient. This means that you'll have savings on gas that you otherwise wouldn't with your stock air intake.
Lastly, a cold air intake is a great way to give your engine a new, custom look. A factory air intake system is usually pretty bland-looking. Aftermarket cold air intake systems come in a variety of colors, finishes, and shapes. This is perfect for those who like to show of their car or simply want a new look under the hood of their truck.
– What to Look for When Buying a Cold Air Intake
The first thing you must be sure of when you are buying the best air intake system for the Chevy Silverado 1500 models is that the part actually fits the vehicle. While this may seem obvious, it is something that can get overlooked in smaller parts, so we must make a note of it.
You also want to make sure that you are buying an intake that has a proper thermal barrier. There are different types of intakes so you want to make sure that yours is made of materials that resist heat transfer. This will serve to keep the air cool as it makes its way to your engine. This way, you will get the engine performance gains that you are looking for.
When shopping for any air intake system, not just one for a Silverado, you will want to make sure it actually adds power. The purpose of a cold air intake system is to bring cooler air into your intake. If the cold air intake system you are purchasing does not provide the power you are looking for, you may be doing more harm than good. However, if you simply want a custom look for your engine, this is still a great way to do so.
– Things to Avoid when Buying a Cold Air Intake
There are a few different things to avoid when buying a cold air intake for your truck. The best cold air intake for Chevy Silverado 1500s definitely doesn't feature these few things.
First, it's important that we don't break the bank with this purchase. While having a proper intake is a worthwhile concern, there's no need to unload everything in your bank account to get one.
Second, some people recommend trying to avoid intake with oil filters. They can pose a problem for air metering devices and can become contaminated such that, over time, they end up failing. Not having an oil filter on your air intake gets rid of one more potential problem that could occur with your truck. However, intakes with oil filters do perform far higher than those that don't have them.
Lastly, you will want to check to see if the cold air intake system you are purchasing requires a tune or not. Some cold air intakes will require you to have special tuning for them to run correctly. Since a cold air intake system brings in more air, supplemental mods or tuning may be required to see the full potential when it comes to horsepower and torque.
– What Finish Will Look Best In Your Engine Bay
When it comes to cold air intake systems, you will have a few different finish options to choose from. The most popular finishes for cold air intakes are black textured and silver or aluminum finish. Depending on what route you are trying to take for your engine bay looks, one may be a better option for you.
For those who are just wanting more power, increased acceleration, and better fuel mileage, the finish isn't going to be such a big deal. You may be better off shopping based on power and price rather than looks.
For those who want a cold air intake that is going to stand out and be a great look with other aftermarket parts in your engine bay, a silver or aluminum finish may be best. This look is very popular among the car show crowd of someone that really wants to show off their customization.
If you are wanting an intake system that closely resembles your factory components while giving you extra power, a black textured finish is a solution. This is perfect for the Chevy Silverado owner who wants the benefits of a cold air intake but wants their engine bay to look very uniform. This is the most popular look that most truck owners go for and is just one of the reasons so many of the intakes on our list have this finish.
Best Cold Air Intake for Chevy Silverado 1500: FAQs
A cold air intake is an aftermarket product that moves the air filter to the outside of the engine. They can be purchased and installed to replace your current air intake. They usually look like a bent pipe with a filter on one end and an opening to your engine on the other. The term cold air intake has been used very loosely when talking about any aftermarket intake, but true cold air intakes relocate the air filter into the fender well.
A cold air intake sucks colder air into your engine by grabbing air that is further away from your engine. As you know, your engine is hot when running, so it warms the air around it. Stock air intakes only grab air from next to the engine so reaching out for cooler air with a cold air intake is great for your engine. This cooler air helps your engine perform better, thus increasing horsepower and torque. While a factory air intake does a great job of what it was designed to do, there are always ways of improving it with aftermarket components.
Absolutely! Your engine is going to prefer cold air to hot air. Cold air carries more of the oxygen that your engine ignites to run. So, with a cold air intake installed, you will be getting higher quality ingredients for your engine for higher performance. The best cold air intakes are going to offer dyno sheets or other proven metrics that show what kind of difference they make. Most top brands (including each on this list) are going to be industry-proven to deliver results that you can feel and see.
A cold air intake will change the sound of your engine a little bit. Your engine will get a little bit of a "whispier" or "wooshier" sound to it that some people decidedly describe as a "growl." Fortunately, this is only seriously noticeable when you are at full throttle at high RPMS when your engine isn't very quiet, anyway. This is due to the air filter being exposed rather than enclosed in an air intake box. Some cold air intakes are going to be louder than others. For kitst that have exposed air filters, you can expect a louder noise coming from your engine bay. For cold air intake kits that have enclosed air boxed, the sound will be muffled, but it will most likely be a noticeable difference when compared to stock.
The price for cold air intakes is quite variable. You can find some for as cheap as $150 as well models up into the higher $400 range. An average cold air intake should cost about $250. The best cold air intakes are not going to come cheap. While there may be some sticker shock, you are paying for the incredible research and development that went into providing you with the best cold air intake system for your Chevy Silverado. Weigh the benefits of looks, power gains, and ease of installation when taking cost into consideration.
When your engine is cool to the touch, disconnect the battery and remove your old air intake from the side of your throttle body. Install your new one by tightening the unit onto your throttle body using the hose clamps. Plug the mass airflow sensor into your new system, reconnect the battery, and off you go! If you are having problems with your installation or want to get a little more educated, most air intake systems, especially the ones made for a Chevy Silverado, will come with instructions, or the manufacturer will offer a great install video for you to go off of.
In order to see how clean your intake is, you need to look at the air filter. If the air filter is dirty, simply remove it and clean it with cool, low-pressure water. After it has dried, attach it back to the end of your intake hose. With some air intake systems such as K&N, you may have to add oil to the filter. Check with your specific air intake manufacturer's instructions for proper maintenance. Some air intake systems may require you to purchase a new air filter.
You bet! With your cold air intake and mass airflow sensor properly installed, your engine will know that it doesn't need to use as much fuel as it used to in order to achieve the same (and better) levels of performance. This is one of the biggest advantages of installing an aftermarket cold air intake onto a Chevy Silverado. The Chevy Silverado does not have the best fuel mileage to begin with. By adding a cold air intake, you can seriously improve the fuel mileage of your truck.
The best cold air intake systems for Chevy Silverado 1500s do indeed improve performance. They do this mostly on the bottom end power of your engine. With a new cold air intake, you will notice a definite improvement in performance, especially with acceleration. You can also maximize the power of your new cold air intake by adding on supplemental mods such as an exhaust system, custom tuning, and a bigger throttle body. These parts will work in conjunction with each other to maximize performance levels for your Chevy Silverado.
Yes! Cold air intake systems are completely safe for your Chevy Silverado. The only time a cold air intake is not safe for a vehicle is if it is mounted too low in the fender well and becomes submerged underwater. Each of the cold air intakes on this list stays in the engine bay and away from any rain, water, or other hazards. You should have no worries about adding a cold air intake to your Chevy Silverado. Thousands of Silverado owners run these air intake systems on their vehicles every day with no issues.
A cold air intake increases the horsepower and torque in your Chevy Silverado. With the additional torque, you should notice that your truck is towing better. While it will not increase the payload your truck can handle, it will definitely make pulling the same loads feel much easier. Couple this with an exhaust and a tune, and your truck will be towing better than ever.
Since every cold air intake is different, some may require tuning for your Chevy Silverado. While each air intake system on this list does not require a tune, getting one for your truck after installing a cold air intake will only help. A tune is a program that is downloaded onto your truck that tells your computer that you have modified your vehicle. It allows your truck to compensate for the additional air being brought in to ensure your engine is running at its best at all times. This is not something to take lightly, so be sure to go with a reputable tuner or tuning company.
To run a cold air intake on a Chevy Silverado, you will not need a larger throttle body. If you are wanting to make more power and add a supplemental modification that can help your cold air intake perform better, then a larger throttle body is a great choice. However, it is not needed to get the performance gains promised by the manufacturer of your cold air intake kit.
As previously mentioned, a cold air intake works best when paired up with other modifications designed to help your engine breathe better. By breathing better, we mean bringing air in and getting air out. This is usually done by adding a cold air intake, throttle body, aftermarket intake manifold, exhaust headers, and an exhaust system. While each of these is going to be a great way to increase power, we suggest starting with a tuner and a customer or dyno tune. This is going to guarantee that not only your cold air intake but any other modification that you add to your truck is working as efficiently as possible to produce the most power without harming your engine.
–
Best Cold Air Intake for Chevy Silverado 1500: Conclusion
With our guide in hand, you can seriously step up your truck. The best cold air intake for Chevy Silverado 1500s – and yours in particular – is on this list and is sure to add performance to your ride. We urge all of our car enthusiasts to invest in the right cold air intake for them and their trucks both for better fuel mileage and improved performance.
Images: Edarr, Amazon