Like everyone, you probably enjoy a smooth car drive, but you wouldn't be able to do that without the help of shock absorbers. Shocks are mechanical or hydraulic components of a vehicle that absorb and lessen bumps caused by the tires coming in contact with harsh terrain.
When traveling on a bumpy road, your tires move excessively, and your vehicle's suspension and springs try to absorb that energy. By converting the kinetic energy of the springs into thermal energy, shock absorbers help your vehicle out and prevent other issues. They also make it easier for you to turn, brake, and accelerate the vehicle.
The average lifespan for shock absorbers is about 7 years, but this depends on their quality and the car's use. If you have a Ford Ranger, then you'll most likely want to look after your vehicle, which is why we wanted to find the best replacement shocks for ford. Let's get started!
Best Shocks for Ford Ranger 4×4
You can find plenty of shocks that fit your Ford Ranger, but not all of them are great. If you want to find out which are the best shocks for Ford Ranger and how to get the right one for your car, read on to find out!
1. Bilstein Monotube Smooth Body Shock Absorber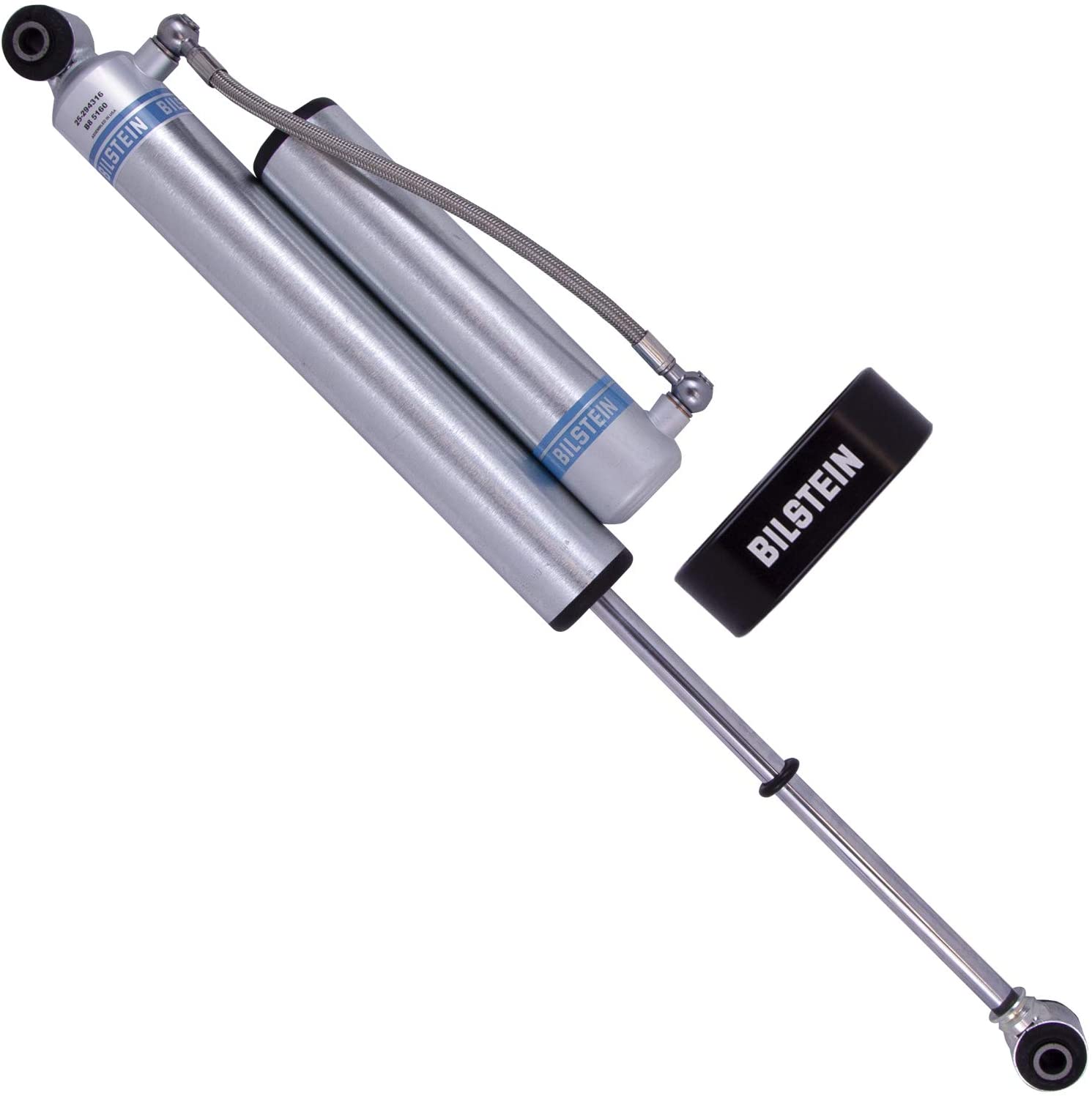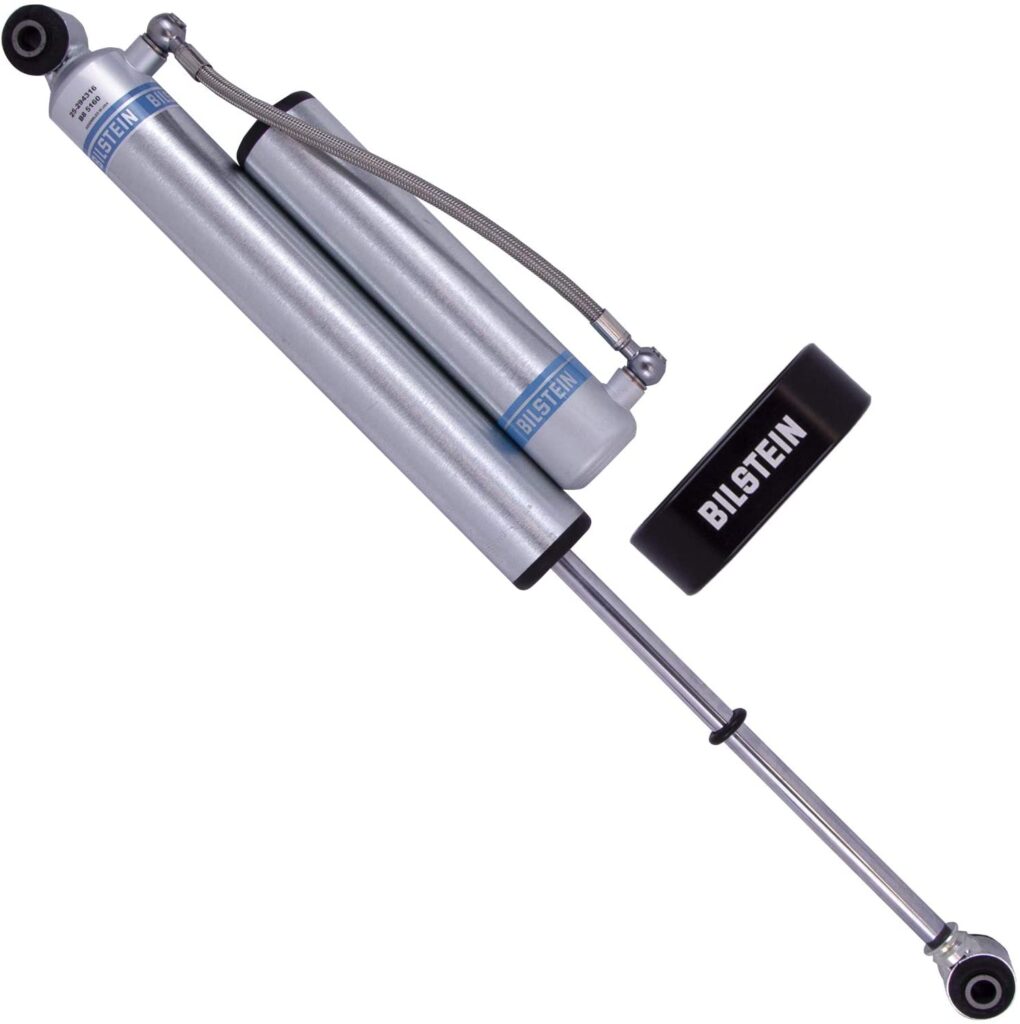 This Bilstein shock is specifically designed to deliver a smooth, consistent drive in lifted trucks and SUVs. If you take your Ford Ranger on everyday adventures, this shock will perfectly fit your lifestyle. Not only that, but these shocks for Ford also protect your whole suspension system on a long drive. With these Ford Ranger shocks, your entire vehicle will have a longer lifespan. The effectiveness is not only proven by users, but all shocks go through a rigorous testing program in racing conditions. This ensures the best driving experience that lasts.
This shock is made from durable materials with a zinc-plated finish and uses gas pressure technology. It has a remote gas tank that improves the cooling capacity and wheel movement to achieve the smoothest ride. The oil in the shock absorber is under pressure, and it doesn't foam when temperatures are higher, or the roads are rougher. Even in these conditions, the Bilstein shock will perform brilliantly when the system is placed under extreme stress.
The Bilstein shock absorber has a patented mono-tube design, using a large piston to increase the surface. The larger area reduces foaming with the help of the high-pressure nitrogen gas charge.
This plan and the unique 360-degree swivel banjo hose fitting also enable these shocks a consistent performance and simple installation process. This is a perfect solution for modified sports vehicles, such as your Ford Ranger 4wd.
Pros and Cons
Pros
• Easy installation on modified vehicles
• Performs even at higher temperatures
• Preserves the whole suspension
Cons
• Only compatible with newer models
2. Fox Shox Performance Series 2.0 Coil-Over IFP Shock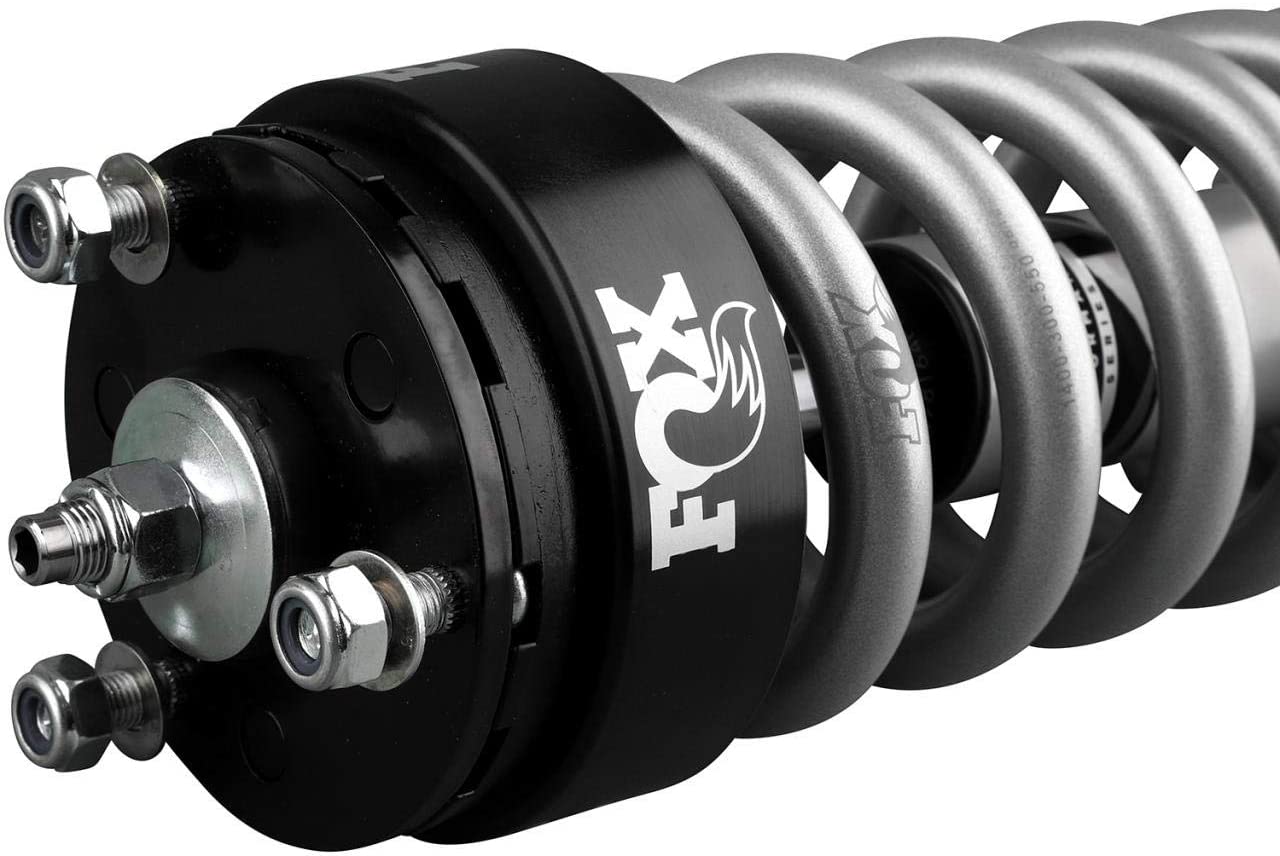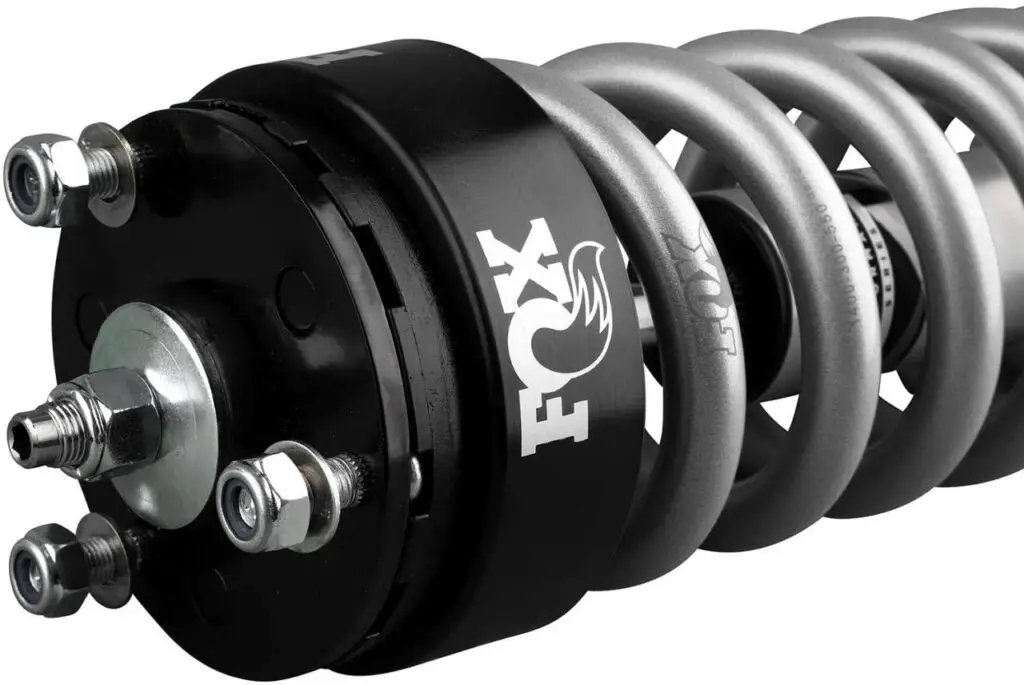 If you are looking for a Ford Ranger shock that will give your truck an extra lift, this Fox shock absorber is excellent. It's designed to level your car from the front to back and includes a composite bushing that successfully isolates any vibration caused by the ground.
Unlike other shocks for Ford, you won't be able to hear this one work on bumpy roads, but you will definitely feel its benefit. You will have a comfortable ride, whether it's an occasional bump on a regular road ride or a hard-to-handle off-road race. Each shock is custom-made for a specific year, make, and model vehicle plus comes with a one-year manufacturer's warranty. This Ford Ranger shock might be in the higher price range, but its quality benefits justify that.
The aluminum body is not only rust-resistant but also helps the systems to cool. This, combined with the uniquely formulated oil, gives you optimum performance even when racing at high temperatures. The high-quality springs are preloaded, but they allow height and preload adjustment to retain an exceptional spring rate in any condition.
Fox shocks use a mono-tube design with a nitrogen-charged gas chamber, separated from an internal reservoir of shock oil with an Internal Floating Piston (IFP). The latter eliminates oil aeration allowing the valves to work with maximum performance. All of this adds up to one of the best replacement shocks out there.
Pros and Cons
Pros
• Gives a great lift to level out the vehicle
• Better vehicle control in general
• Allows adjustments to fit your suspension
Cons
• Installation can be difficult
3. Eibach Pro-Truck Coilover Shock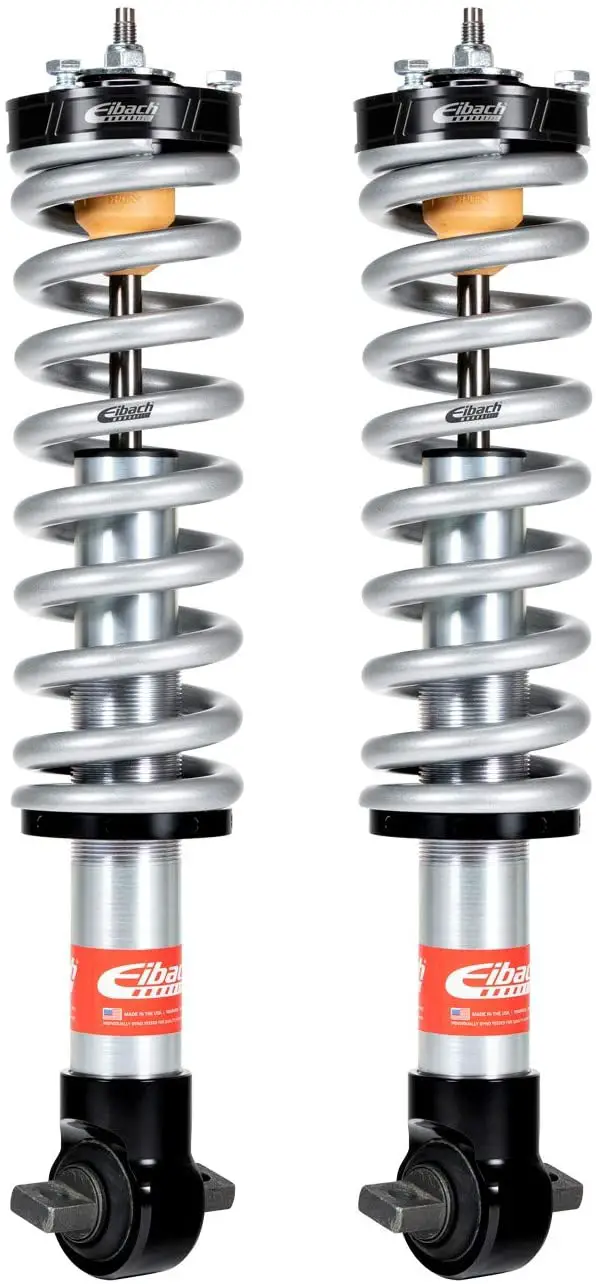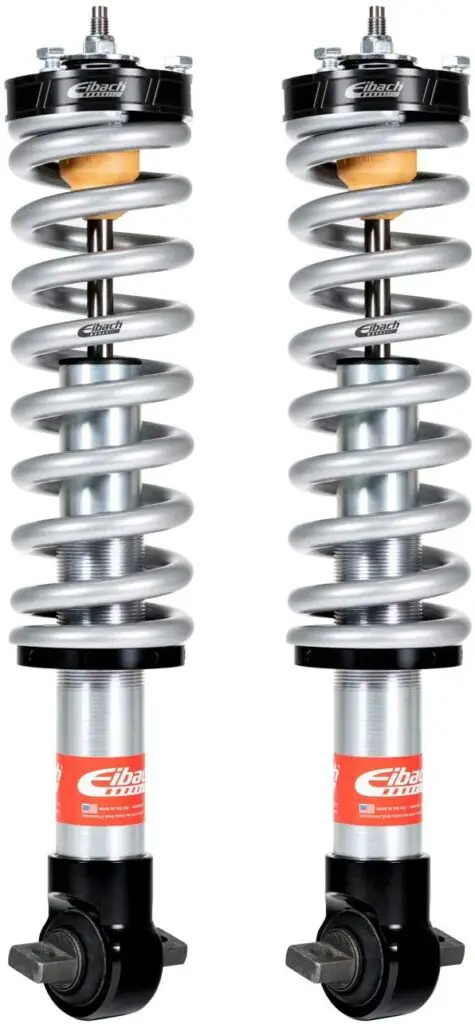 This Ford Ranger shock is made for off-road driving and racing enthusiasts, as it enables an immediate response and smooth ride. The heavy-duty shocks also provide perfect control and reduce bumping and rolling while increasing overall stability. The Eibach shock can give you all the support your suspension needs in extreme racing or while transporting heavy construction material in your truck. Not to mention the lift that goes up to 4 inches, depending on your vehicle.
It comes pre-assembled and with the tools and instructions required to install it. The installation of the replacement shock is straightforward, but you have to align your vehicle accurately after fitting. In a factory, the million-mile warranty covers all professionally installed parts. The threaded springs are adjustable to accommodate a heavy load carrier on even the most uneven ground. The shock parts are tested individually for lasting performance and reliability, including the fortified padding system.
These coil-overs were formed using Eibach's improved mono-tube technology with aluminum mounts. They include a variable force valving that gives you added control and maximum adhesion while driving. Eibach sock uses ERO off-road race springs for the coils that work with factory control arms. This increases the vehicle's height without putting pressure on the joints and bushings. And does that all while being compatible with any specific driving mode or truck weight.
Pros and Cons
Pros
• Provides easy height adjustment
• Detailed instructions for every vehicle
• More balance while driving off-road
Cons
• Works best with factory controls
Best Shocks for Ford Ranger 4×4 – Buying Guide
All the shock absorbers from above can work on a Ford Ranger four-wheel drive. However, not all of them are compatible with all specific models, your budget, or expectations. Make sure to have all your vehicle details, including any modifications, before buying new shocks for it.
If you have a Ford Ranger manufactured after 2016, the Bilstein Monotube Smooth Body Shock Absorber is the best option. It will fit more easily, mainly if you have already made some modifications to the suspension.
Get the Eibach Pro-Truck Coil over Shock for a balanced lift that you can adjust effortlessly. Besides giving you a great deal in control and performance, it's also the most cost-effective one of the three.
Fox Shox Performance Series 2.0 Coil-Over IFP Shock has wider compatibility and is made from high-quality, durable materials. If you don't mind paying a little bit more, it could be a good investment, as they will protect your whole vehicle.
Replacement Shocks for Ford – Design
There are two main designs for shock absorbers the twin-tube and the mono-tube. These two plans might come with slight variations, but their function will stay more or less the same. Mono-tube shocks work better on smoother roads, where precision or tuning is more required than avoiding vibrations.
For example, they are excellent for maintaining proper control of the tires while turning. In off-road environments, however, they are more vulnerable to shock damage. A damaged high gas pressurization system can lead to leaking and lower oil volume, which can cause your car to overheat.
On the other hand, because of their dual-layer protection of the piston tube, twin-tube shock absorbers are more protected from damage. They have lower gas pressurization and are less prone to leaking, thus having a longer lifespan. Twin-tube shocks are a more reliable option for off-road driving due to their sturdy construction, even when they are used in extreme racing conditions.
For example, the low pressurization can mean even more if the absorbers are used in higher outside temperatures. They will protect your suspension and your whole car in these conditions.
Of course, the two main designs can have additional features, such as nitro-gas charging internal floating piston for mono-tube shocks. Remote reservoir shocks separating the gas from the oil canister are also a solution shock manufacturers use to better mono-tube shock absorbers.
Replacement Shocks for Ford – Compatibility
Along with the shocks, the suspension also has a crucial responsibility for your Ford Rangers' control and overall performance. Consequently, choosing a suspension shock that is compatible with your car's suspension can also affect your comfort while driving. Before trying to find a shock absorber suited to travel on uneven ground, you need to make sure you have the kind of suspension for the 4×4's intended purpose.
Shocks for Ford Ranger can range in size and weight. You have to follow their specifications to fit them into your vehicle. Most shock absorbers are adjustable, but some shocks work only with other fabric parts, such as suspensions or controls. Shock manufacturers and sellers will often provide you with the necessary information about every make and model, so you shouldn't have a problem finding the correct part.
Typically, shocks vary from 16 to 24 inches in length. However, you might need a longer or a shorter one, depending on your vehicle and its suspension. For example, if you modify your vehicle by raising it, you need to find shocks of appropriate length to fit.
Replacement Shocks for Ford – Types
Coilovers
These types of shock absorbers have a coil spring integrated into their design, encircling the shock itself. Sometimes, the absorber and the spring are assembled as a unit before installation. In this case, there are little to no adjustments after. Other coilovers allow adjustments, even with the shock inside the coil.
Mostly used when fine control, compression, and rebound damping are the required factors in a shock. Coilovers can also effectively lower the vehicle's center of gravity and reduce weight transfer when the car changes direction. They are a common choice for those who like to build with ready-made parts that don't require much assembly.
Gas-charged shocks
As the name suggests, this type of shock absorber uses a low-pressure charge of nitrogen gas. The lower the pressure, the better performance, and the longer lifespan the shock has. These shocks are quite popular in vehicles used in everyday life on even roads.
The gas-charged shocks minimize the aeration of the hydraulic fluid by compressing the air bubbles in it. This prevents the oil and air from mixing and creating bubbles of foam. This way, the shock can react faster and help keep the tire constantly on the road. They also cause a mild elevation of the spring to the vehicle, helping reduce swaying, brake diving, or acceleration squatting.
Foam cell shocks
These shocks are similar to gas-charged shocks in build, but instead of a pressured gas, they use a foam sleeve within the absorber. They can store more oil because the sleeve takes less space than a gas chamber would. This way, they are able to dissipate more heat, and for added efficiency, they are mostly used in twin-tube designs.
Some shocks use a combination of foam and gas. In these shocks, the foam cell is located between the inner and outer tubes and is injected with nitrogen gas. It prevents the gas and the oil from mixing, which means you avoid bubbles in the oil.
Remote reservoir shocks
A remote reservoir shock absorber uses a special tank with a dividing piston to separate the shock oil from the pressurized gas within the reservoir. As the larger foam cell shocks, these shocks can also increase oil volume and heat dispersion.
They work best in vehicles where the fluid travels a long distance from the wheel to the reservoir. For example, endurance racing in a higher environmental temperature is an excellent use for these kinds of shocks. Unfortunately, everyday vehicles have less space for the oil to move. For this reason, they cant disperse the heat and use this kind of shock effectively.
Replacement Shocks for Ford – Durability
There are a lot of factors that have an influence on the durability of your Ford Ranger shocks. Their price is one of them, as cheaper ones are often made of lower quality materials, thus having a shorter lifespan. Paying less does not always mean a better value, so you might want to invest in a better one from a middle price range. You don't have to pay a fortune, but you will get to protect your whole vehicle for a slightly higher price.
You should get the shocks for Ford Ranger and the suspension that will suit your purposes if you want them to last. The terrain that you'll use will also affect the durability of your shocks. Gravel roads are much more strenuous on the whole suspension system than asphalt.
A shock absorber is designed to lessen the springs' action causing friction. Friction then becomes heat that slowly degrades or wears out the shock absorber. The outcome depends on the quality of your Ford Ranger shocks, especially when driving in the heat. Here a lesser quality shock absorber won't be as durable because of the heat and vibrations.
Replacement Shocks for Ford – Materials
The materials a shock absorber is made of will affect its performance and comfort level. The material should suit the type of your vehicle, driving conditions, and budget. To get the best shocks for Ford Ranger 4×4, you'll need to opt for those made from strong and durable materials. The majority of absorbers are made from thick steel, reinforced with a chrome or zinc coating. And if you want a really durable shock, get one with thick pistons and a reinforced shaft.
Most materials used to make the body of shocks are steel and aluminum. Steel shock is commonly used in vehicles for everyday drives, as they are cheaper. They aren't suitable for off-road handling and racing because they are heavier than aluminum shocks and do not allow adjustments. Aluminum shocks are more expensive, but their performance is higher too. They are light and easily adjustable, so they fit applications such as racing cars.
The materials of paddings, seals, springs and other components also affect their performance and lifespan. For spring material, steel is the best choice as it doesn't lose elasticity. Synthetic rubber or polyurethane are perfect materials for seals since they provide protection from leaks, withstand pressure, and last long.
Replacement Shocks for Ford – Ease of Installation
Half of the price of a shock replacement comes from the mechanic's labor alone. If your Ford Ranger shock absorbers need replacement, and you are thinking of doing it on your own, choose the shock with simple instructions, if possible. This way, you will not only save money but time as well.
Or, if it fits your make and model, get a pre-assembled shock absorber. Coilovers, for example, many times come with a complete product that's specific to your vehicle. They are a practical solution for everyday use on more or less even terrain.
With modified cars, the installation process becomes a little more complicated, as most shocks are made for original factory suspension settings. You can get your exact measurements and either contact a shock manufacturer to help you or get a little creative on your own until you find the right shocks for you.
Replacement Shocks for Ford – Purpose
You also have to think about how you are going to use your shocks for Ford Ranger. For commuting on a highway or street, a mono-tube gas shock is a great option. You won't even feel the potholes anymore, and the pressurized nitrogen gas will last a very long time in terms of miles. If you rarely drive on other than even ground, you can also get a twin-tube option. It's more budget-friendly, but it wears down faster.
For work vehicles that need to handle heavier loads, in addition to the rough ground, adjustable mono-tube shocks are recommended. An adjustable shock provides a comfortable riding experience while lasting longer and not failing from the pressure. If needed, you can turn up the dampening power to control compression to maintain stability with the extra weight in the back.
There are shock absorbers specifically designed for off-road driving and racing on aggressive terrain. These are the most durable, effortlessly controlled, and long-lasting suspension shocks for any type of vehicle. Of course, their price is higher with multiple height settings and resisting any possible conditions. But when it comes to driving aggressively, they can save your vehicle, if not your life.
Replacement Shocks for Ford – Maintenance
Buying and installing good quality front and rear shocks will also save time spent on maintaining afterward. And you don't have to spend too much money either. You can get a quality product from a middle-range brand that suits all your needs and has an acceptable performance and endurance combination.
For maintenance purposes, it's also important to set up the Ford Ranger correctly. The shocks should fit the suspension perfectly, and the car should be aligned after putting on all four shocks. If this is not done accurately, some of the absorbers may get more pressure on them and wear out faster. Shock absorber bushes should be tightened at ride height, especially lower strut bushes. If the bush is secured with the wheels lowered, the padding will be twisted and the shocks subjected to more stress resulting in their shorter lifespan.
Check and adjust the shock absorber regularly, and if you notice any vibration, bottoming, or damage, you should change them before they damage your car. The shocks should be kept clean, with no debris or water in the seal area. All of the components of a vehicle's suspension system should work flawlessly. Any worn spring or padding could put shock absorbers under more stress than necessary.
Overheating in rough off-road terrain could shorten the lifespan of a shock absorber. For example, a small body gas-pressurized shock can overheat quickly due to its relatively small oil volume and surface area. As opposed to that, larger shocks have a higher oil volume and larger surface area. They are effectively expelling more heat in a shorter amount of time.
Best Shocks: FAQs
The best shocks on any vehicle will make sure you get the smoothest and most comfortable ride possible while protecting your suspension from vibration. Contrary to that, defective shock absorbers will not only make you feel every bump but can potentially damage your car. The ideal shocks for Ford Ranger are easy to install and adjust, work perfectly and you won't even hear or feel them.
Besides changing your Ford Ranger shocks, there are a couple of things you can do to make your car run smoother. Check the air pressure in your Ford Rangers tires. If it's too high, the ride will be harsher. Replace any worn suspension components as they will negatively affect the truck's ride quality.
Tires that are just a bit larger will improve the quality of the Ranger's ride. Just make sure they fit properly on the Ford Ranger rims before getting them. Also, some tire compounds are softer and allow for a smoother ride. And the more plies the tire has, the stiffer it will be, which will make the ride rougher.
Try adding weight to the bed of the Ford Ranger near the tailgate to decrease jolting. Because this truck was meant to carry loads, it can spring when driven empty over uneven surfaces.
Obviously, the smoothest riding experience you will get only with shock absorbers is specifically made for your car's original settings. It also helps if the shocks are adjustable, so you can fit them into your vehicle.
Some shock manufacturers, such as Bilstein, offer a wide variety of absorbers for every vehicle possible. They will be able to match your shocks precisely to your factory tuning and offer adjustment options. That way, you will have the best handling and comfort of your vehicle in more than one setup.
Typically most manufacturers recommend changing or at least checking your Ford Ranger absorbers for wear and tear every 50,000 miles or so. Some higher quality shocks will give you a better service life, but in the end, it all comes down to the way you use them.
You can tell for sure if one or more of your Ford Ranger shock absorbers are worn out because they won't do their job anymore. When you begin to feel increasing vibrations and difficulty handling your car during braking and stopping distance, it's time to change the shock. If you leave them any longer, they will lead to uneven tire usage, fluid leakage, and eventually more damages that can be very dangerous.
The price of new shock absorbers for a Ford Ranger varies from around $150 to $500, depending on the brand. If you leave the work to a mechanic, their labor could cost you another $100. And that might not include any adjustment or repairing the damage done by a previously worn-out shock.
Getting shocks in pairs or fours will get you a better deal, as you can get decent quality pairs for around $230. If you do some research and get clear instructions for your new shocks, you might be able to save even more money by doing the replacement by yourself.
Yes. You probably had all four shocks on the same amount of time and drove the same number of miles with them in the same conditions. For this reason, you should always replace all of your shots. Otherwise, you won't be able to get even control of the vehicle.
Shock absorbers usually come in both rear and front versions purposely. You need to buy two of each version for your vehicle and replace them in pairs or, if possible, all four of them at the same time.
This will depend on the intended purpose of your shocks for the Ford Ranger, your car's settings, your willingness to invest in more durable materials, and whether you are doing it yourself. Surely you can get a good deal of less than $250 for all four shocks. And this could work fine for everyday use on the streets. For more heavy-duty absorbers, you will need to give at least $400 for a pair. These will be more durable, though, and give you better performance.
They will make rides more comfortable, and you will notice this from the time you start your car after the replacement. Your control over the vehicle will be as smooth as it was with the factory settings. The new shocks will also reduce the wear of other steering or suspension components and save your tires.
Best shocks: Conclusion
Your choice of new shocks for the Ford Ranger may depend on your budget, but the most deciding factor should be durability. If you are looking for a long-lasting absorber, you should opt for getting one with a chrome-plated piston and polished steel shafts. You can find these for a moderate price, but they will benefit you far more than cheaper options especially if you plan on taking extended trips in off-road settings.
Finally, you need to keep in mind that although shock absorbers are a vital part of a car's suspension system, they aren't the only ones responsible for a comfortable ride. All that's left for you to do is choose your favorite shocks for Ford Ranger and get them fitted. Once you do, you'll enjoy a much smoother and more enjoyable ride.