Adding LED headlights to your car does far more than give you better vision at night. In fact, installing LED headlights is also an economically smart decision. LEDs last up to 22 years, far longer than the typical year and change that halogen bulbs last for.
LED bulbs are also more durable by their nature, giving them another advantage over halogen bulbs. It is also of note that LED bulbs are far more efficient than any other bulbs out there. Because LED headlights are brighter, last longer, and operate more efficiently, we recommend these bulbs to everyone. For this reason, we've created a list of the best-LED headlights on the market.
5 Best LED Headlights on the Market Comparison
"As an Amazon Associate, I earn from qualifying purchases."
Best LED Headlights Reviews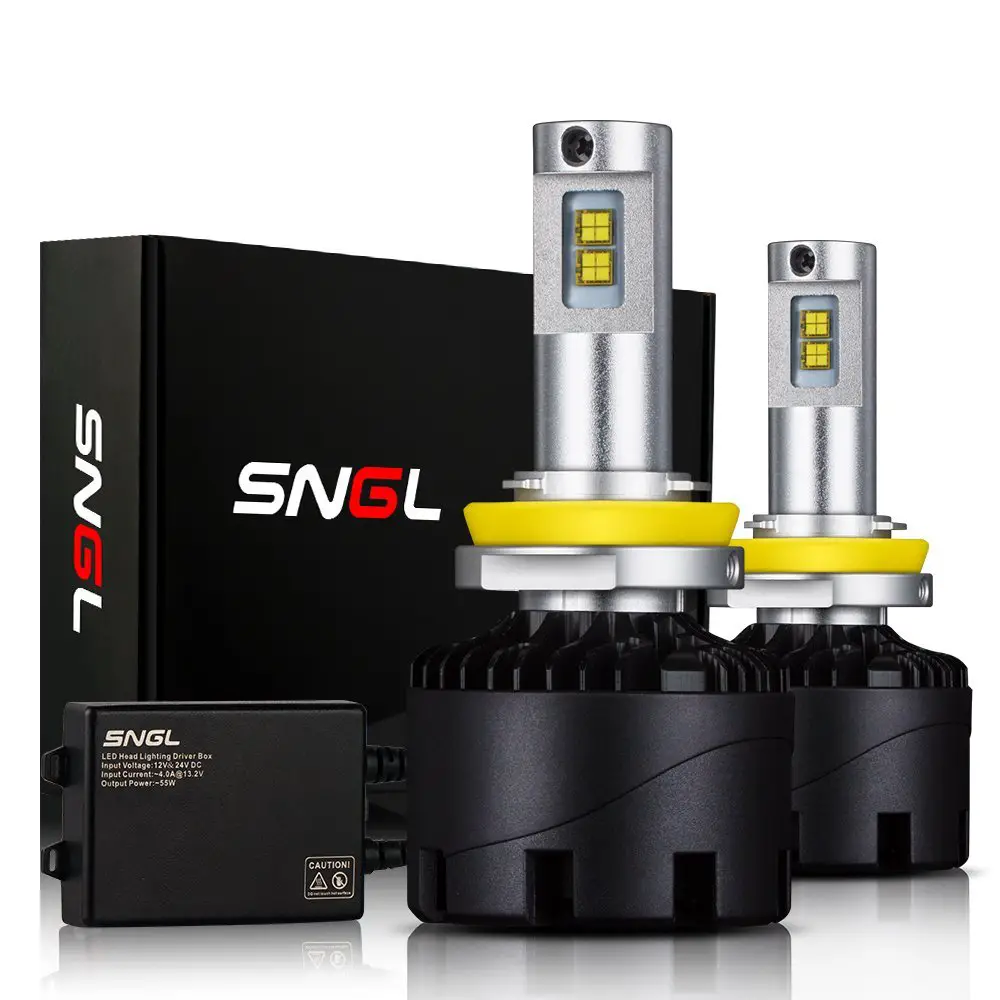 SNGL's LED headlights are the best product in this space for a variety of reasons. These bulbs put out a great color of light, sending out 6000K crystal clear, bright white focused light. This color pierces the night and gives you a very true view of what is out ahead of your vehicle.
They operate at 55W of brightness output per bulb and are two to three times brighter than any other brand's LEDs or halogen bulbs, according to the manufacturer. The beam of light is shaped straight out in front of your car, focusing on the road ahead and any potential dangers that could be hiding in the night.
This installation kit even lets you adjust the beam that the bulbs create to your own liking. The bulbs are ready right out of the box and provide over 50,000 hours of illumination. Also included in the kit is a cooling system that keeps the bulbs operating with consistent color and brightness, even in the most extreme conditions.
The bulbs are equipped with a small fan that spins at 15,000 RPMs, keeping them cool so that they last a serious amount of time as well as operate in the right color. The kit and bulbs also come with a two-year warranty so you can be certain that this purchase would be a sound investment in your vehicle.
They come in a variety of sizes, so you should be able to find one that fits your car. All told, you can be certain that your night driving will be much safer with these bulbs installed in your car. All of these characteristics make these bulbs the best-LED headlights on the market that you can find today.
Reviewers couldn't speak higher of this product. They say that these LED headlights have to be some of the best available since they couldn't think of anything more than they would want out of the product. In fact, Amazon reviews show that these are the best-LED headlights on the market as far as ratings with customers.
They have received a 4.3 out of 5 stars on Amazon, higher than any other LED headlight available on the site. Apparently, the installation is easy as you could ask for and the light quality is outstanding. People feel like the sun came out again with these lights. They throw light extremely far out in front of your car and stay bright at this large distance.
Commenters also note that the light from these bulbs does have a little blue in it compared to Xenon LEDs, but the light can still generally be called white. The only complaint that comes about with these lights is that some customers are disappointed that the kit doesn't fit their car.
Just like any other auto part, it is important to make sure that the part you are purchasing does indeed fit your car. These bulbs do come in different sizes so that they fit a wide range of vehicles but it is necessary that the size be right for your particular vehicle.
So, as long as you do the appropriate amount of research, it looks like these headlights are the best-LED headlights on the market and worthy of putting on your ride.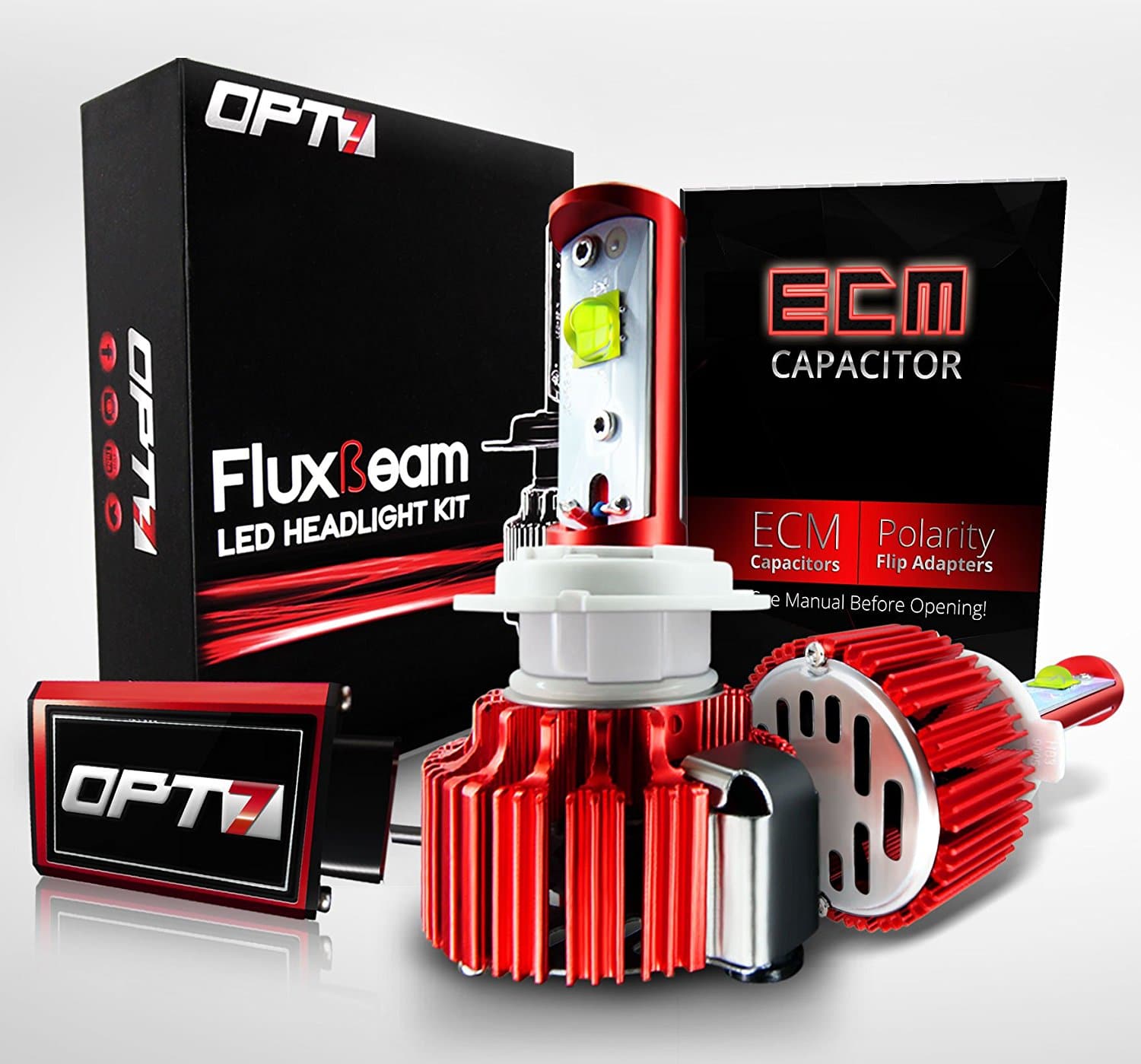 This kit comes from OPT7 and is one of the best-LED headlights on the market. These bulbs come as a part of an installation kit that makes fitting the bulbs to your car a breeze. These OPT7 bulbs burst cool white light out in front of your car at an impressive and clear 6000K worth 3,500 lumens per bulb.
These bulbs are the only ones that use Arc-Beam technology and CREE MK-R LEDs to create perfect beams without dark spots. OPT7's bulbs are rated to last over 50,000 hours by utilizing an advanced cooling system and durable materials.
The TurboCool fan is the only moving part in the whole kit and serves to keep the bulbs cool and long-lasting. The bulbs themselves are made of a solid aluminum build for a weather-resistant product that is sure to stand up to a beating from the elements.
These bulbs can be installed right out of the box and will work with any vehicle CPU. The product even comes with a two-year warranty and lifetime support from OPT7. Altogether, these LED bulbs are sure to impress if installed on your vehicle.
On Amazon, these headlights have received awesome reviews that point to a great product. This OPT7 product has received a solid overall score of 4.1 out of 5 from customers – and for good reason.
Some customers went as far as showing comparisons to their old headlights in their reviews and the difference is staggering. Additionally, people are very happy with the installation kit and how easy it makes the entire installation process. They had their headlights all set up in less than 30 minutes and had brand new eyes on their vehicle to show for it. Unfortunately, there are some bad reviews on these headlights.
As always, there are, regrettably, some people who forget that they need to make sure that the product they are buying actually fits on their car. These people account for about half of the bad reviews on this product.
The other half of poor reviews come from car owners who ended up with a faulty product upon purchase and found it difficult to reach OPT7's support department. So, it seems that poor service may be an unlucky drawback of this product.
All told, though, these headlights have satisfied far more customers than they have disappointed and deserve to be near the top of our list of best LED headlights on the market.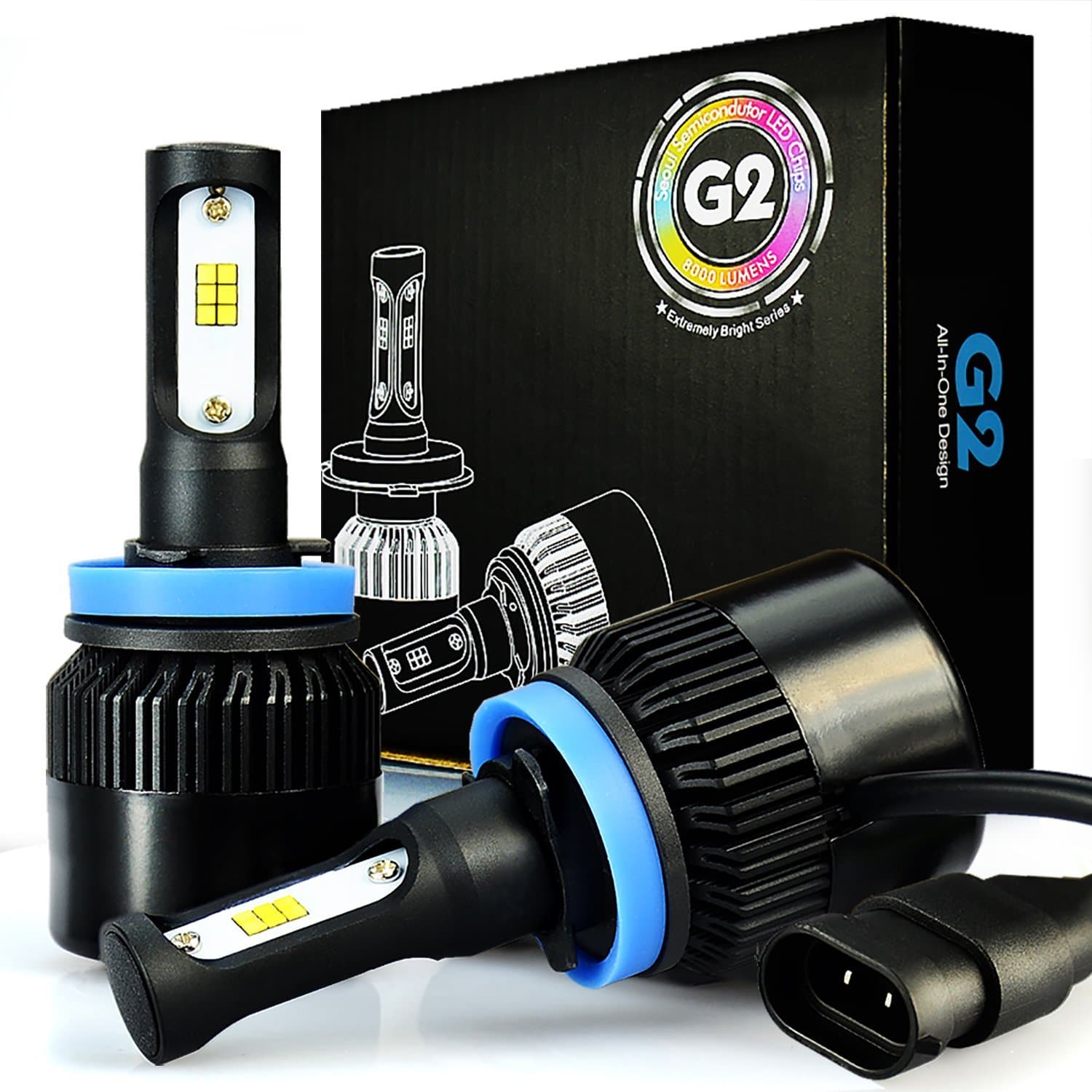 The next set of LED headlights on our list is the JDM ASTAR G2s. This set of bulbs is made with second-generation CSP LED chips and is certainly a quality product. Just to make sure that you buy with extra confidence, JDM has placed a one-year warranty on this product that covers lights that have been damaged during delivery or have a confirmed manufacturer defect.
So, unless you break them yourself, these lights are a sound investment for lighting up the road in front of you – something they do well. The output of these LEDs totals 8,000 lumens, with each bulb contributing 4,000 lumens, featuring an improved light beam pattern from JDM's previous models.
The color is 6000K, similar to the other items here on our list. These bulbs are waterproof, have a voltage of 9 volts to 32 volts, and wattage of 36W. The kit contains an outstanding heat dissipating design that ensures that the bulbs are always working at maximum performance.
Reviews of this product are great, showing that customers are more than happy with this product. These bulbs have scored themselves a 4.0 out of 5-star rating on Amazon, making them one of the highest-rated LED headlights you can get.
Surely, you will also find that they are some of the best-LED headlights on the market, too. People love how the lights look on the front of their car and say that they can see far better at night now that they have gotten away from their stock headlights. Some even say they will never go back.
However, we should also note that there are some negative reviews of this product that are important to pay attention to. Of course, some people did not take the time to make sure that these bulbs actually fit their car so we can ignore these reviews.
The rest of the undesirable reviews show a concern for the longevity of the bulb, as some customers said that their bulbs went out after a couple of months of use. Since this concern is addressed by the warranty that comes with this product, though, we should not be concerned about this and still maintain that this JDM product is still top of the line.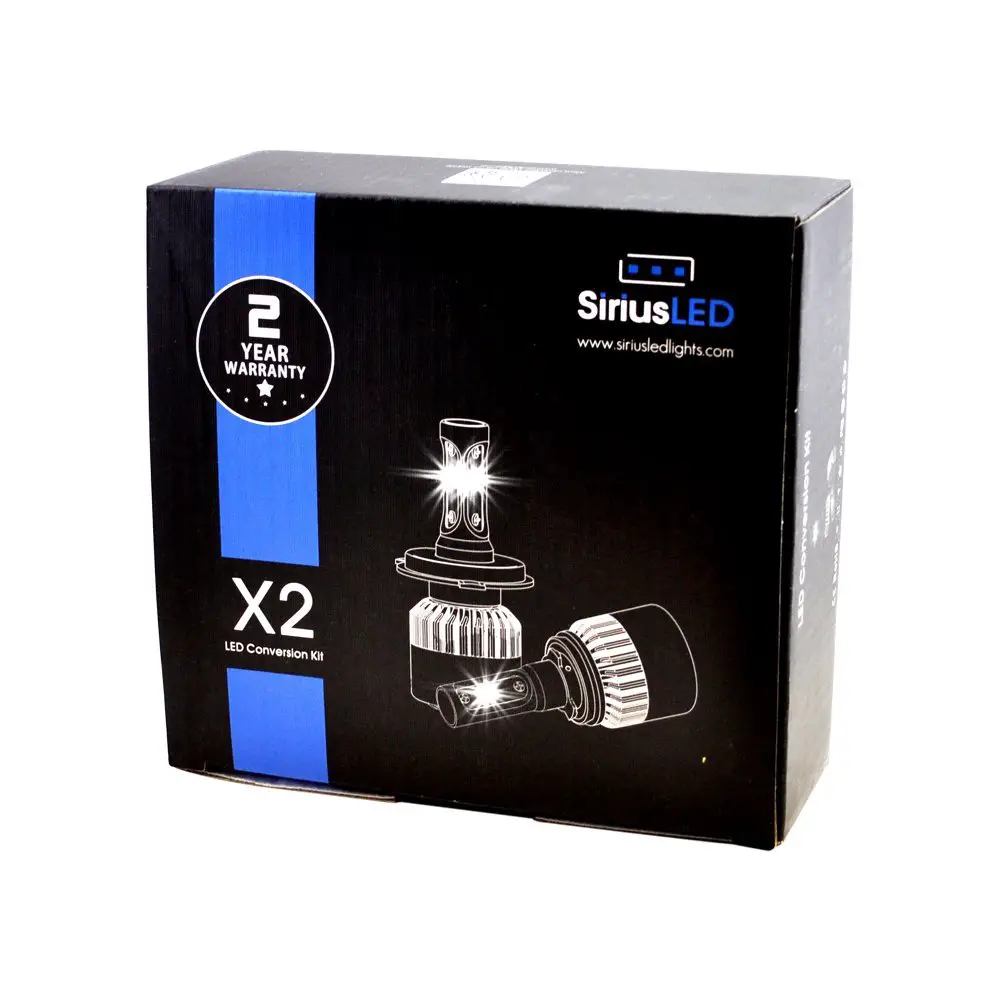 SiriusLED's headlights make it onto our list for numerous reasons. These all-in-one headlights are the most compact LEDs that you can find and are comparable to OEM factory bulbs. This means that it doesn't take any ballasts or drives to install these bulbs.
This is an easy installation that almost no LED headlights on the market offer. Even with this simple installation, you are getting serious headlight power from these bulbs. The 6000K xenon white color is the same as you would get out of most other LED headlights. The 8,000 total lumens is also industry standard.
Therefore, you are getting the same extreme brightness that you should expect out of LED light bulbs with an even easier installation. These bulbs are also extremely durable and weatherproof for even the most punishing conditions.
The dependability of these bulbs is also notable as they come with a two-year warranty and are advertised to offer 30,000 hours of use. Clearly, these bulbs look great on paper and place near the top of our list for the best-LED headlights on the market.
Reviewers of this SiriusLED product are generally satisfied with it. While this product has received slightly lower marks on Amazon at 3.9 out of 5 stars, it is still an awesome option on your hunt for the best-LED headlights that you can find.
Customers love the illumination that these bulbs produce both normally and when turned onto the fog setting. They say that these lights are bright as could be and get them the nighttime visibility that they are looking for. However, many reviewers state that their bulbs were dead on arrival or burned out quickly after installation.
While this is a worthwhile concern and is certainly important, the two-year warranty on this product is not to be forgotten and could alleviate this issue in your mind. For these reasons, SiriusLED's bulbs have made it onto our list and are indubitably a great option for your car.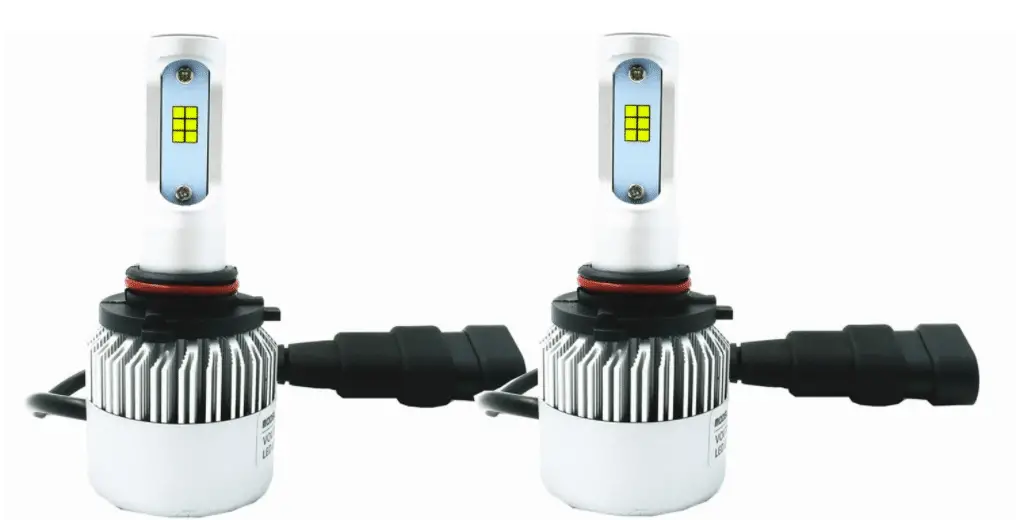 The last – but certainly not least – set of bulbs on our list come from the minds at Alla. These bulbs have a minified design, making them easy to install in about 20 minutes. The color of these bulbs is 6500K for a clear, white hue at 8000 lumens.
These LED headlights are sure to light up the night in front of you so well due to the design that focuses them in front of your vehicle with no dark spots. These bulbs are made with premium quality CSP chips and a copper heat sink design.
This affords them a longer life span as well as a further beam of light. On most vehicles, these Alla LEDs can be installed and used right out of the box. However, we should note that some European and newer vehicles may require installing the included decoder to clear any error codes or blinking that may occur.
Since they come in many sizes, these bulbs are great for brightening up the night in front of any vehicle. They also come with a one-year warranty, lifetime support, and a no-hassle, full refund within 30 days.
Looking at reviews of this product, it looks like these bulbs belong on any list of the best-LED headlights on the market. Rave reviews are too easy to find that detail how these bulbs are worth paying for, are super bright, and are easy to install.
Customers love the value that they got out of these bulbs and feel like the night is no longer dangerous. However, there are some reviewers who state that they are disappointed with the product. Some had the lights burn out on them in a month or two, but, thankfully, they are covered by the warranty.
A more real problem with the product is that the beams don't change much when on low or high beams. Yes, the lights are bright, say customers, but they want them even brighter on high beams as they could get with other products. Although this is a concern for these customers, it may not be for you and your needs.
Overall, these bulbs are some of the best-LED headlights on the market and certainly deserving of your consideration.
Conclusion
LED headlights were at the forefront of headlight technology in 2021. With the many options available, any of the above headlights will provide an upgrade to stock headlights, however, the SNGL Super Bright LED conversion kit provides the lightest output and is one of the highest quality LED bulbs on the market today.
Images: Caricos/Amazon