This list of the 11 best exhaust brands is here to help you replace the stock exhaust system on your vehicle. Whether you're looking for better-looking exhaust tips or a bolt-on system that offers more of a performance tone, there are so many options to choose from it can be overwhelming.
There are quite a few exhaust system manufacturers on the market these days, so knowing which one is the best for your vehicle is important. There are so many different factors that go into choosing the right system for your vehicle; Having a little help deciding can go a long way.
We've come up with a comprehensive list that will help you make that decision a little bit easier, and turn you into an informed customer. Choosing the best exhaust brand system is one of the more difficult modifications you can make because of all the available options. Let's take a look at the top 11 best brands, ranked by us, so you can choose the best exhaust system for your ride.
11 Best Exhaust Brands:
| Rank | Picture | Product | Material | Technology |
| --- | --- | --- | --- | --- |
| #1 | | Corsa | Stainless Steel Construction | Easy Bolt-On Installation |
| #2 | | MagnaFlow | Stainless Steel Construction | Straight Through Mufflers |
| #3 | | Borla | Stainless Steel | Multi-core Technology |
| #4 | | Banks Power | NA | Monster Exhaust System |
| #5 | | Flowmaster | 409 stainless steel construction | Super aggressive sound level |
| #6 | | aFe Power | Mandrel Bent Stainless Steel Tubing | Fits with most aftermarket Evap skid plates |
| #7 | | MBRP | Mandrel Bent Tubing | Installs with common hand tools |
| #8 | | Gibson | Mandrel Bent Stainless Tubing | All hardware for easy bolt on installation |
| #9 | | DynoMax | NA | Dyno proven to flow up to 700 SCFM |
| #10 | | Holley (Hooker / Flowtech) | Stainless Steel Perforated Exhaust Core | Bi-Directional Exhaust Flow Design |
| #11 | | AP Exhaust (Cherry Bomb / Silverline) | NA | NA |
"As an Amazon Associate, I earn from qualifying purchases."
#1 – Corsa – Winner Best Exhaust Brand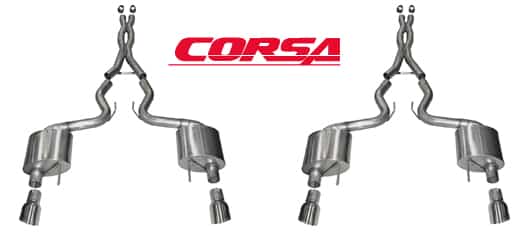 Corsa has worked hard over the past two decades to build a reputation for superior exhaust systems that don't feature any of the drones many replacement exhausts are plagued by. The technology they developed, known as Reflective Sound Cancellation, is now a point of pride for them. Corsa's exhaust tone is delivered in a pleasing way, and it sounds great on almost any car.
And they implement RSC along with other technologies into every one of their mufflers to ensure that you can fully enjoy the experience of an aftermarket exhaust kit. They're marketed as easy to install too, which is great for those looking to install it on their own ride.
History of the Corsa Exhaust System
Their story stretches back to 1998, when they first developed RSC, and they have continued that dedication to achieving their goal of perfecting the science of sound. To that end, Corsa manufactures their exhaust systems to meet one of three levels of sound performance, for optimal exhaust tone.
Their most moderate Touring designation is quiet at idle but provides a bit more noise during acceleration. Sport is their most popular level, providing a distinct rumble at idle, and then a high-performance aggressive sound while accelerating. Their Xtreme level is the most aggressive, resulting in a scream at high RPMs building up from a deep growl at idle.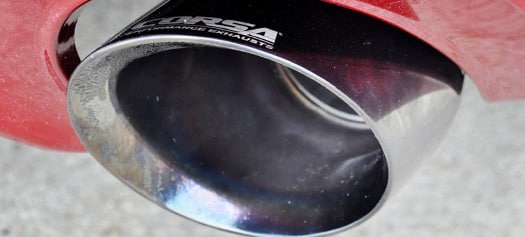 In 2012 Corsa decided to take their passion for performance and advanced manufacturing techniques and apply them to the air intake market, where they've gone on to pioneer a new range of technologies, still focused on getting the best sound and the most power. All their exhaust systems get tested on dynamometers and analyzed through a variety of simulations. dynamometers and analyzed through a variety of simulations.
Based out of Cleveland, they're continuously developing their performance exhaust system lines and techniques to ensure competitive products that meet customer expectations. The bottom line is, that Corsa makes one of the best exhaust brands systems you can buy and easily makes the list of 10 best exhaust systems on the market.
#2 – MagnaFlow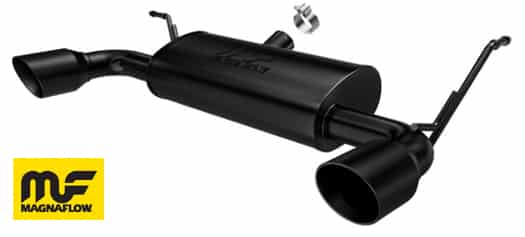 Operating out of Oceanside, California, MagnaFlow was the natural offshoot of the Car Sound Exhaust System. Originally focused on the development of catalytic converters, MagnaFlow was established to work on the rest of the exhaust system. Now, with over thirty years of experience, MagnaFlow is as dedicated to its philosophy of quality, power, and sound as they ever were.
Throughout it all, Magnaflow has proudly manufactured all their performance exhaust systems in the USA, and made use of only premium technologies. From a quality perspective, they conform to the ISO-9001 standard's guidelines and are thus able to provide lifetime warranties against manufacturing defects on many of their aftermarket exhaust systems.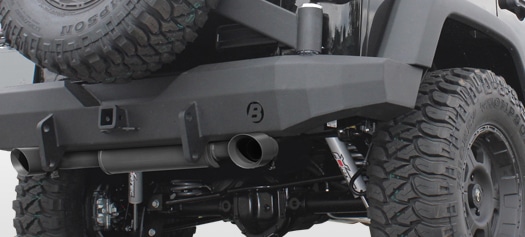 To ensure they're always setting the pace when it comes to performance, MagnaFlow makes use of their large R&D test center, which contains two dynamometers, a flow bench, and sound testing equipment. Every new car gets analyzed here and a new product is developed specifically for it and its unique performance attributes.
MagnaFlow is a market leader when it comes to the best exhaust brands system, and they continue to produce good quality parts comprising high-grade aluminized and stainless steel, offering a wide selection of options for every car. MagnaFlow always makes a list when it comes to the best exhaust system.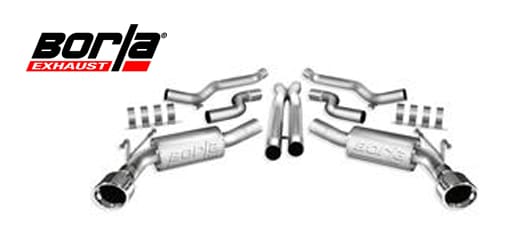 Taking its name from its founders, Alyse and Alex Borla, Borla exhausts aims to build excitement. With offices in both California and Tennessee, Borla has pioneered a number of design and manufacturing techniques for stainless steel performance exhausts.
In a similar vein to Corsa, the key to any of their designs is the minimization of drones. They achieve this by not unnecessarily enlarging pipe diameters. Keeping diameters low results in a faster airflow velocity and higher frequency noises. Their stainless steel tubing utilizes thick-gauge aluminized steel that's built to last and looks good doing it.
Corsa makes the best exhaust brand system for just about any vehicle on the market at this point, which is expected from such a fundamental brand. Whether you drive a domestic vehicle or a car imported from Japan, they make a custom system for just about any car. You can even get a full catalytic converter-back system for some of the least produced vehicles.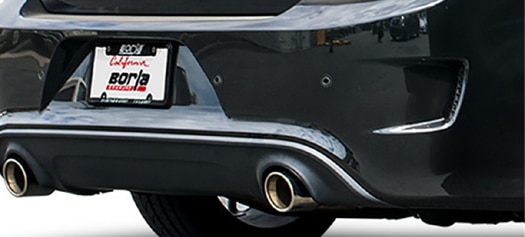 Why Borla is Among the Best
Over the years, Borla has won numerous "Best New Product" awards and put that down to their continued use of austenitic stainless steel, which is mandrel-bent, and welded. This ensures an accurate fit, as easy as installing a stock product. Their mandrel-bent tubing is the pinnacle of exhaust systems and even helps with fuel economy.
Borla works with a number of racing contacts to provide exhaust systems in the competitive world. The same technology applied there goes into their street exhaust systems, and results in an average power increase of 7-10 horsepower and torque when accelerating; That's assuming you leave your factory catalytic converter intact.
When considering quality, Borla ensures the use of only top-notch components. Their mandrel bends are a thing of quality, and the sound they create is incredible. To impress you with their dedication to providing a long-lasting performance exhaust system, Borla offers a million-mile warranty on all their cat-back exhaust systems.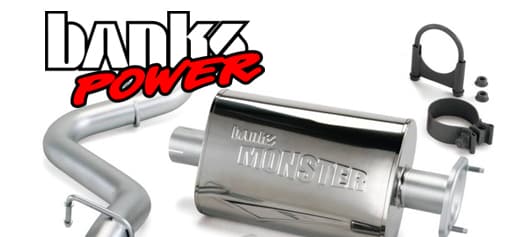 One of the oldest names in the industry, Banks Power, was founded by, still president, Gale Banks back in 1958. Since then he has gone on to form one of the largest performance part manufacturing companies around.
Currently based out of Azusa, California, Banks Power manufacturers every type of performance part one can imagine, from exhaust and intake systems to transmission management, electronics, and intercoolers; Banks Power covers it all.
Besides Gale Banks' knowledge of engines and engineering, he has cultivated a crack team of engineers and manufacturers who follow product design from prototype to manufactured product. This way, the ball is never dropped, and the final product exactly matches its specifications.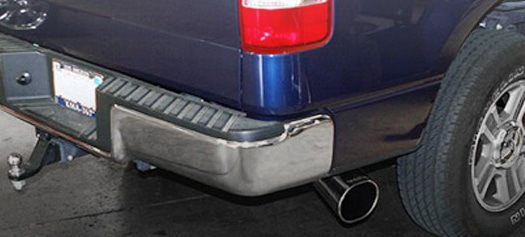 Banks Aftermarket Exhaust System offers Performance
Banks Power's performance exhaust systems are manufactured from 100% stainless steel, constant diameter tubes that are mandrel-bent. Their polished stainless steel straight-through mufflers are sound tested to provide a rich sound without the risk of drones. In contrast to Borla's design methodology, Banks Power focuses on increasing airflow but reducing exhaust temperature. That means your exhaust gases cool even faster as it courses through the mandrel bends.
Monster Series
Their standard Monster Exhaust offered by Banks Power has a 4" inlet and outlet, with a straight-through design, no more winding hairpins causing back-pressure in your exhaust pipe. The end result is a drone-less, throaty rumble.
Banks Power has shaken up the aftermarket exhaust system market by bringing its own methodology to a decades-old technology. They take pride in the system they produce and put it through the wringer before it reaches the consumer so you know you're getting a quality exhaust system.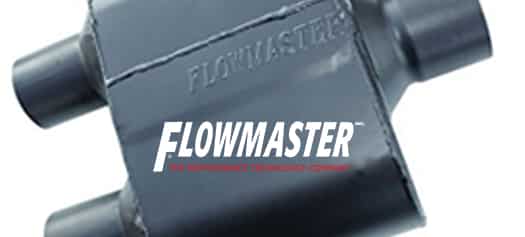 Flowmaster operates from two manufacturing facilities in California, one located in Santa Rosa and the other in West Sacramento. They've been operating since 1983 and were founded by Ray Flugger.
They were conceived in response to a growing sound problem at California race tracks. From there, Flowmaster has gone on to develop a number of patents which they continue to implement on their aftermarket exhaust system.
The Flowmaster Mission
The Flowmaster mission is simple. They want to deliver the best performance exhaust system to the market. By continuously innovating, making use of the most advanced manufacturing, and tugging on their over 30 years of experience, they continue to build a high quality, easy to install, performance exhaust system.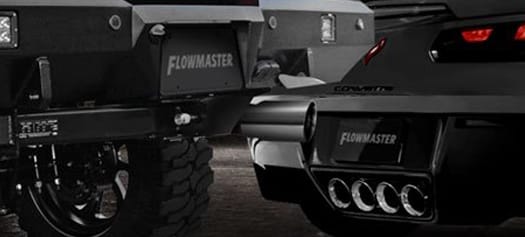 With a strong R&D department, Flowmaster can guarantee that they are always at the forefront of exhaust technology and are quickly able to adapt to new conditions presented by the ever-increasing quantity of cars on the market.
Even though Flowmaster has slightly expanded its market, exhaust systems are still at the core of its business. Each product is offered in various combinations so that you can pick not only a visual style but a sound style as well that you want for your vehicle.
The Flowmaster Models
Their range of sound starts on the soft side with Force ll, steps up to the dBx series, goes into the aggressive mode with the American Thunder, and tops out the range with their race-orientated Outlaw Series.
If you're looking for an American-made product with lots of variety, Flowmaster continues to deliver when it comes to creating contenders for some of the best cat-back exhaust systems.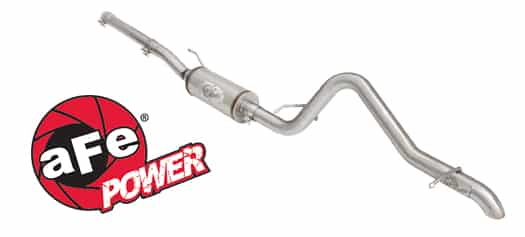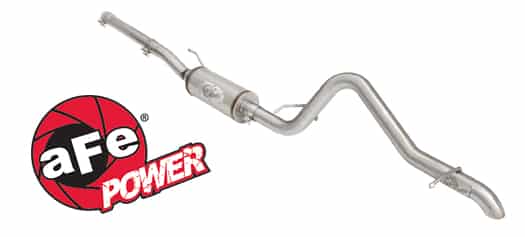 Advanced Flow Engineering aFe as they are more commonly known as a performance part manufacturer based in Corona, California. Founded in 1999, they have continued to expand into the organization they are to today. Beyond exhaust systems, they manufacture air filters, intake manifolds, turbochargers, programmers, and much, much more.
They have a distinct focus on the diesel truck performance aftermarket but naturally, cover the entire off-road vehicle spectrum. They also produce some products for other performance vehicles. From their quality mandrel-bent tubing to the subtle increase in horsepower and torque, aFe has something to offer everyone for their vehicle.
An Exhaust with Performance in Mind
All of aFe's exhaust systems are designed for performance. Each tube is mandrel-bent and made out of high-grade stainless steel. The exhaust systems further come with free-flowing mufflers, and one can choose from a variety of stainless steel exhaust tips. Each kit is designed to fit as well as the stock item, making use of the same mountings.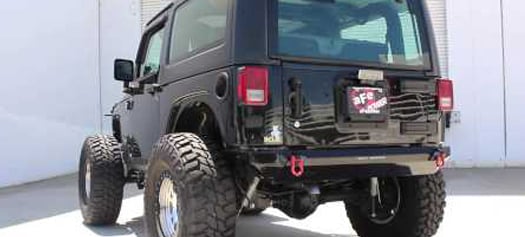 Each exhaust system is uniquely designed for a specific car and aims to provide an aggressive sound that fits the vehicle and meets customer expectations. All the kits are completely handcrafted in the US and held together by TIG or MIG welding. They utilize their own custom-designed program designed to provide a perfect fit every time.
MBRP is all about performance exhausts. They started off life over 20 years ago with their B&B Eliminator snowmobile silencer, crafted out of high-quality 304 stainless steel. After progressing on through ATVs, they now manufacture parts for the motorsport industry as well as cars and trucks. Their product range has also stretched to include off-road suspension and lighting products.
While some may consider MBRP new to the scene, they produce an exhaust system with a solid sound and have more than proven themselves in the market. Whether you're looking for your car or another off-road vehicle, chances are you'll find something that fits your needs.
MBRP's Sport Line
MBRP's new sport line of their aftermarket exhaust system features a unique flow-through muffler that was initially developed for the offshore marine market. The resulting muffler though improves performance, provides cooler operating temperatures, and most importantly, generates a deep, mellow sound.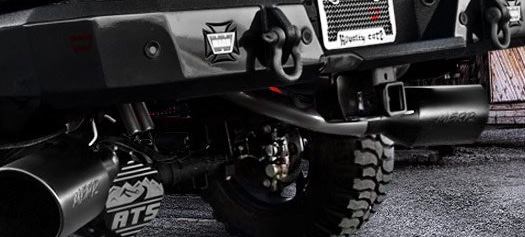 MBRP has grown rapidly in the last decade, most notably due to its dedication to excellence. For each vehicle, MBRP offers several aftermarket exhaust systems, some still in high quality 304 stainless steel options, of differing design and specifications. With powder coating options available, they have great options for your vehicle. Their systems are built to perform and proven on the dynamometer. The aluminized or stainless steel cat-back exhaust system guarantees better flow and long life.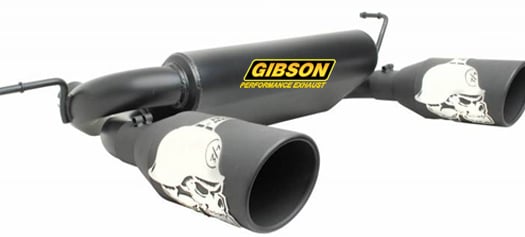 Gibson Performance Exhaust has an interesting history. While others regale with stories of race cars and mustangs, Ron and Julie Gibson had a simpler desire. Their motorhome just didn't have enough power or torque, and no product on the market was going to help them. As such, they set about starting their own company, hiring designers and manufacturers that have to lead them to the position they're in today.
What a Gibson Exhaust Pipe Offers
From the start, their goal has always been to develop a cost-effective system that delivers more performance per dollar than any other. From the stainless steel tubing in their exhaust pipes to their curate mandrel-bent tubing, they know how to get exhaust flow right. In the early 90s, friends requested their help in the sports truck arena, and now Gibson is a leading manufacturer of high-performance exhaust systems across the board.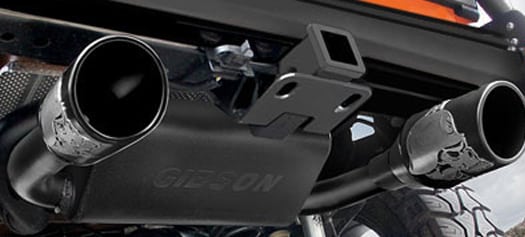 Each product is designed for easy installation on your vehicle, which results in a professional appearance. Their aftermarket exhaust systems are all made from aluminized or high-quality stainless steel and are engineered to derive maximum performance from the engine they're coupled to. Whether you're looking for better exhaust flow or slightly better fuel economy, chances are Gibson has an option for your car.
Metal Mulisha Series
For each car, Gibson manufactures all types of exhaust systems. Their Metal Mulisha range of products offers the most aggressive sound with a trademarked Metal Mulisha Skull tip. On the lighter side of things, you can opt for a well-priced aluminized steel exhaust with a polished tip that still provides an aggressive note, but thanks to their baffled and chambered design without internal packing, you're assured a drone-free experience; not to mention how great the aluminized steel options look.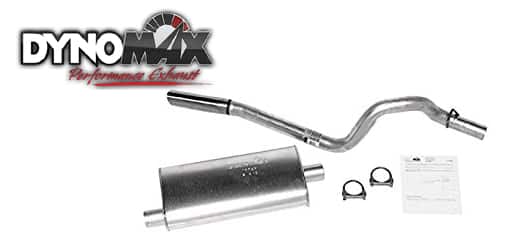 DynoMax is a leading manufacturer of stainless steel exhaust systems. They're owned by the American Fortune 500 company, Tenneco. They offer a wide range of mufflers which they couple with their own manufactured tubing to provide full exhaust systems. Each muffler uses its special CRF technology to absorb unwanted resonance while still maintaining a deep performance tone.
Their mandrel bent custom tubing offers a more personalized flare from DynoMax, to create a more complete and affordable exhaust system. If you're looking for an option for your car that doesn't break the bank but adds a little sound, Dynamax is a solid go-to for your catalytic converter back replacement.
Dynomax Design
DynoMax is so sure of its products that they offer a 90-day risk-free trial. During this time, if you're not happy with the sound your new exhaust system is making, you can return the product for a full refund. Along with the sound, DynoMax products are easy to install, guaranteed to perform, and provide a boost in both power and torque.
If you head over to Dynomax's website, they even have a special dedicated section so you can hear what their different models of exhaust systems sound like. You can pair the right sound to decide which exhaust system will bring your vehicle to life.
Designed for the perfect fit on any vehicle, chances are one of Dynomax's exhaust systems will fit your ride. Whether you're looking for a different sound or even better fuel economy, if you're a vehicle owner looking for a low-cost, low-risk item to test out on your car, you can't go wrong with DynoMax.
#10 – Holley (Hooker / Flowtech)
Holley is a large performance parts company based out of Kentucky. Initially a major carburetor producer, they now oversee the operations of many different brands throughout the performance automotive market. They offer the perfect exhaust system for your vehicle.
Holley Acquisitions
Two of Holley's acquisitions in the exhaust field include Hooker and Flowtech, which continue to manufacture several types of exhaust systems under their individual brands, but in mostly non-competing markets. Flowtech focus on the domestic market, especially pickups and muscle cars, while Hooker has a broader range. They make great options for better exhaust flow, paired well with any other performance parts you may have in your ride.
Both brands offer top-quality exhaust systems designed with performance in mind. Manufactured from high-quality stainless steel, they are optimized for high flow and drone reduction. Chances are, Holley has an exhaust system that not only fits your vehicle but also has the sound you're looking for.
#11 – AP Exhaust (Cherry Bomb / Silverline)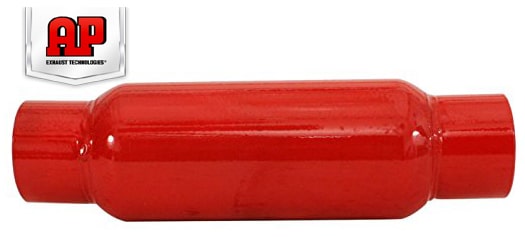 Based in Goldsboro, North Carolina, AP Exhaust Technologies manufacture a large lineup of automotive, light truck, and commercial vehicle exhaust systems. They have been operating for 90 years and sell their products under a number of brands, Cherry Bomb and Silverline included. If you're looking for an inexpensive exhaust pipe for your vehicle, the cherry bomb is an awesome choice.
Cherry Bomb vs. Silverline
Cherry Bomb, known most for its signature red exhaust pipe, seems to focus on the specialist, offering a full range of individual parts from which you can customize your own exhaust. Silverline offers pretested configurations for the sport compact and diesel truck markets. Whether you're looking for the customizability of the cherry bomb exhaust pipe or a more preconfigured Silverline option, you can rest easy knowing the parent company is quality.
Conclusion
As a car owner, there's a lot to consider when it comes to picking an exhaust system for your vehicle. The bottom line is, that companies can't make a perfect product every time. Knowing a bit more about a specific brand's history can help you make a more informed decision or even just give you a better feeling that if something goes wrong, the manufacturer will have your back. After all, picking a new exhaust system to replace your stock system should involve more than the exhaust sound. Having a lifetime warranty can make all the difference.
Whether you're looking to replace your factory system completely or just the catalytic converter back, all the brands we listed have something to offer your car. Whether it's more power or more performance you're after, one of these companies has something to offer for your car. Not everyone is in looking for more sound, but everyone is looking for a little bit more personalized.
This list is then not to say you must only go buy one manufacturer's products, but if you're faced with a decision between competing products, you can use our list of best exhaust system brands to add some light to that decision. Whether it's diesel exhaust systems for your trucks or bolt-on performance mufflers for your sports car, we're here to help you make the decision just that much easier!
Images: Automobile Magazine