The best tuners can increase horsepower and torque while improving your MPGs, all without turning a wrench. It is one of the most popular upgrades truck owners use and is commonly paired with cold air intake and exhaust upgrades. However, with many tuners to choose from, all claiming to give your truck the biggest power gains, it's tough to pick the right one. For this reason, we've compiled this list of the best tuner for 6.7 Powerstroke.
4 Best Tuners for 6.7 Powerstroke:
"As an Amazon Associate, I earn from qualifying purchases."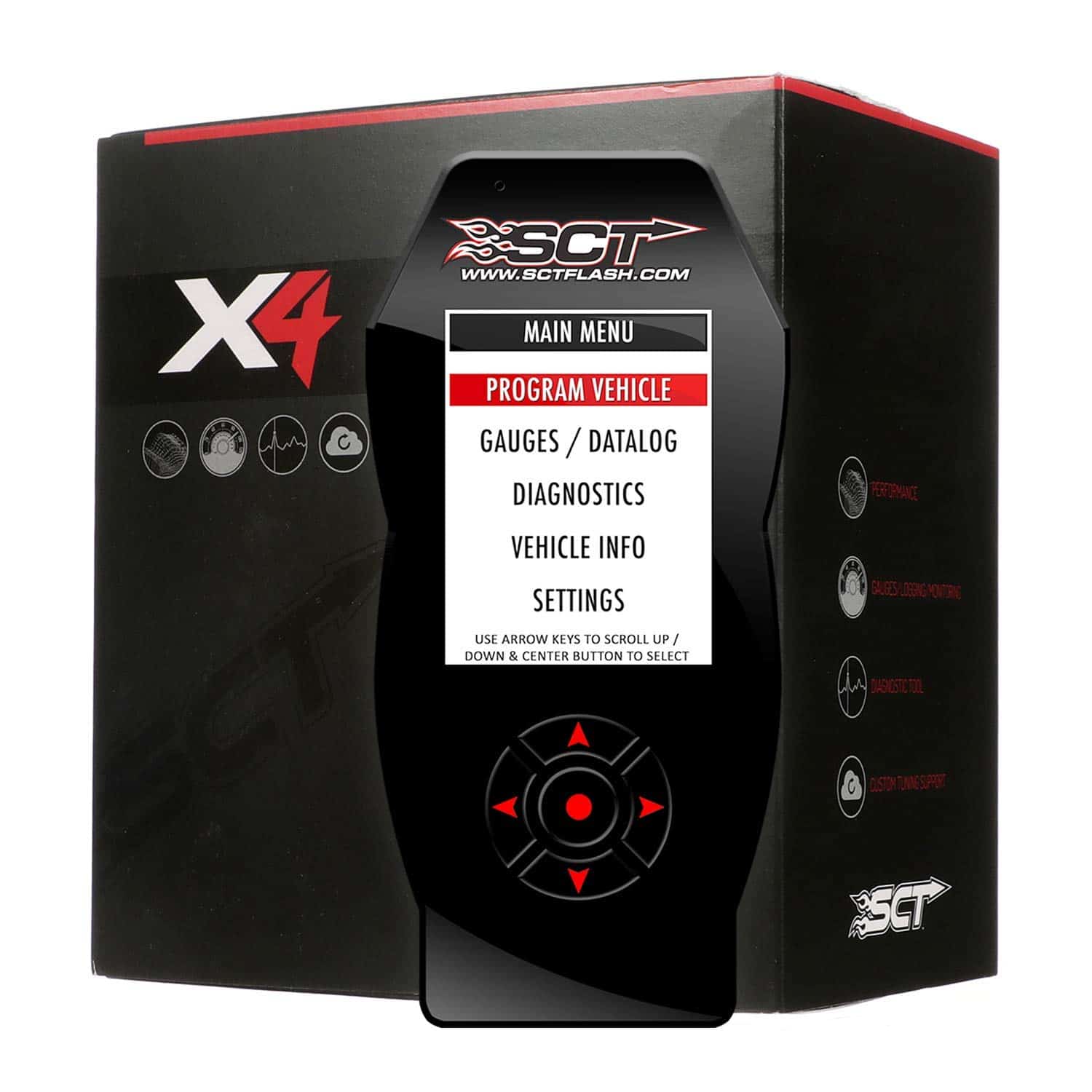 The SCTX4 Performance Programmer is a cost-effective tuner that will help you improve your vehicle's performance without being a burden on your wallet. Although it is lower in price than the other tuners available in the market, it still delivers a wide range of customization options and outstanding performance. Whether you want to decrease the fuel consumption of your 6.7 PowerStroke or boost its horsepower, then the SCTX4 Performance Programmer is one of the best options available due to its benefits and functionality.
Helps deliver an improved performance
The SCTX4 Performance Programmer allows you to make little alterations to your truck to help improve its performance. It increases your truck's throttle, horsepower, and torque, thus making your vehicle faster and more powerful than before. If you want an adrenaline rush or want to enter your vehicle in competitions, then this product is perfect for you. Furthermore, this tuner can store up to 10 custom tunes, thus making it easier to choose one that is ideal for the situation at hand.
Versatile
It can be a daunting task to find a tuner that works fluidly with your truck, but the great thing about the SCTX4 is that it is compatible with many models of Ford vehicles manufactured from 1996 to 2014. It works with both diesel and gas automobiles.
Troubleshooting
The SCTX4 Performance Programmer also works as a troubleshooting aid. This device helps to determine what is wrong with your vehicle in a matter of seconds. It offers fast data monitoring and logging and can identify and clear DTC trouble codes. Hence, this device makes troubleshooting far quicker, easier, and more accurate.
Easy to read vehicle data
The big Backlit display of the SCTX4 Performance Programmer makes it easier to read Real-Time Vehicle Data and check popular sensor data such as Air/Fuel Ratio, EGT, or any other 0-5 Volt source.
Pre-loaded tune files
The SCTX4 comes pre-loaded with proven Dyno tune files that increase torque and horsepower.
Some of the adjustable variables of this product are as follows. These options vary from vehicle to vehicle and may not be available on all trucks:
Speed Limiter
This feature helps to change the top speed that the truck can reach before automatically limiting the power required to go faster.
Axle Ratio
Update fuel efficiency calculations and change the vehicle speedometer if you have made changes to the gear ratio of your truck. If you have not made any gear ration modifications, then choose stock settings when the SCTX4 asks you to choose a gear ratio. This ensures that no changes are made to the stock program.
Idle Adjust
This feature helps to enable and select a certain value for Engine Idle position. This ensures that the voltage in your truck is up while the auxiliary electronics are running off the truck's power system.
Tire Size
Change the speedometer if you have switched your tire size from stock.
Intake Airbox
You can run an aftermarket intake without a Check Engine Light
CMCV Delete
You can disable the CMCV (Charge Motion Control Valve) when removing the CMCV plates to prevent Check Engine Light.
Locked at CT
Controls the torque converter during deceleration which helps in engine braking.
Multiple Displacement System
This feature helps to disable additional engine cylinders and initiate a fuel-saving 4-cylinder engine mode.
TPMS
Disable or change the Tire Pressure Monitoring System.
Pros:
Compatible with both diesel and gas vehicles
You can easily store ten custom tunes
It can accommodate many different models of trucks
It helps increase torque and horsepower
Easy restoration back to stock settings
Acts as a troubleshooting aid
Built-in WiFi makes it easy to download device updates
Monitor air-fuel ratio, EGT temps, and other conventional sensor data
Helps to monitor engine parameters
Easy installation through the OBDII port
LCD full-color display for clear viewing, night or day
Includes Livelink Datalogging software and USB Interface Cable
Adjust various performance bolt-ons such as Exhaust Systems, Cold Air Kits, and Gears
Cons:
Not fully functional. You have to pay extra for additional tuning functions.
It doesn't have a touchscreen.
For these reasons, we've chosen the SCT Tuner as the best tuner for 6.7 Powerstroke.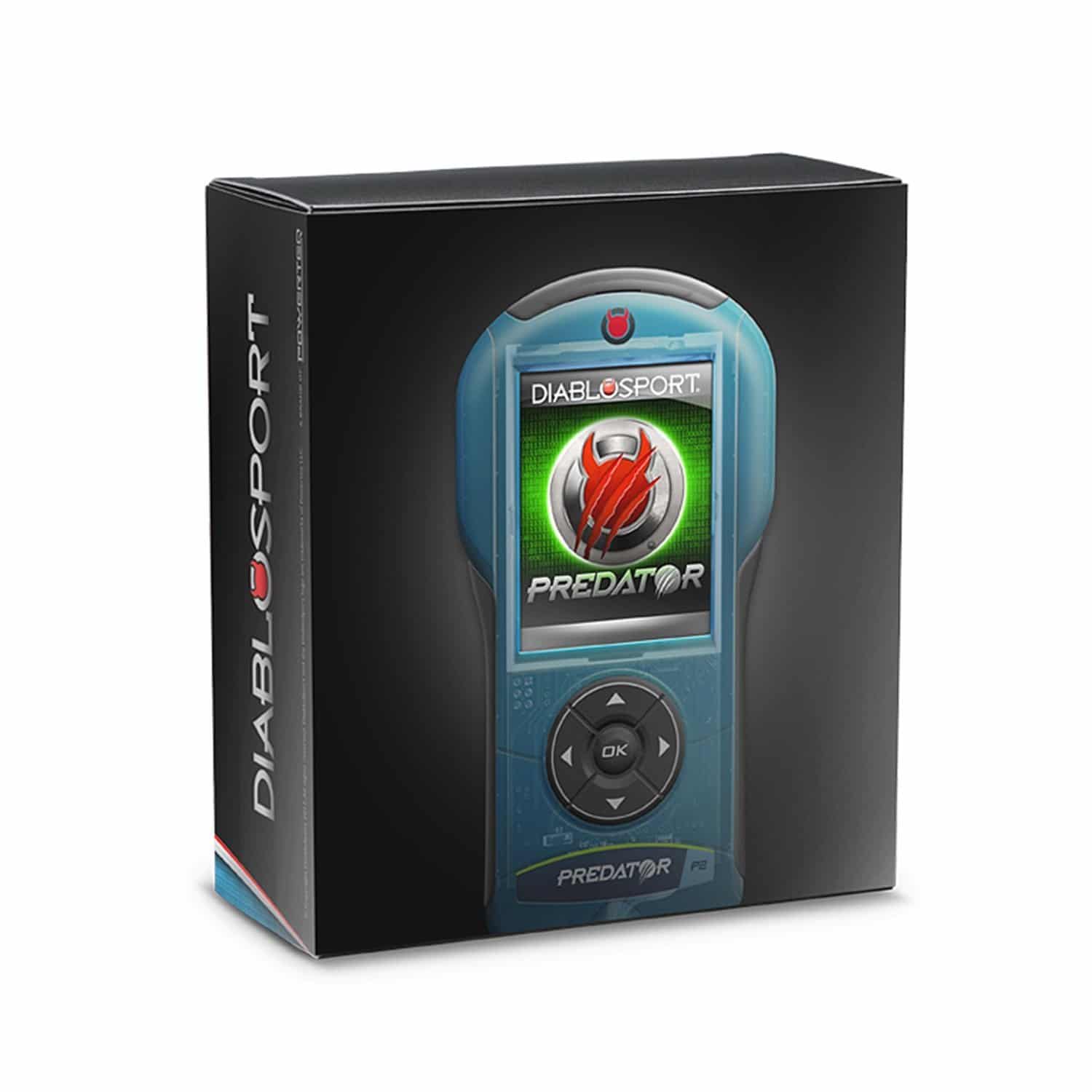 If you are looking for an ultimate performance upgrade for your Powerstroke, then the DiabloSport Predator Performance Tuner is the perfect tuner for you. You can add 25 ft/lbs of torque, 25 Horsepower, and up to 3 miles per gallon fuel efficiency with the help of a simple OBD-II flash.
The DiabloSport Predator has tunes that are specially designed to increase your truck's driving power. It also allows you to adjust your truck's speedometer for larger aftermarket rear axle ratios, aftermarket tires, and even disable the top speed limiter.
The DiabloSport Predator is pre-loaded with programs. The simple plug-and-play installation of this tuner makes it one of the best tuners available.
Pros:
Easy-to-use
Full-color screen
Increased fuel economy
Lightning-fast internet update software
Improved user interface
Best power gains
Cons:
Not compatible with export Ford models (models outside of the USA)
An excellent tuner that earned the number two spot as a second-best tuner for 6.7 Powerstroke.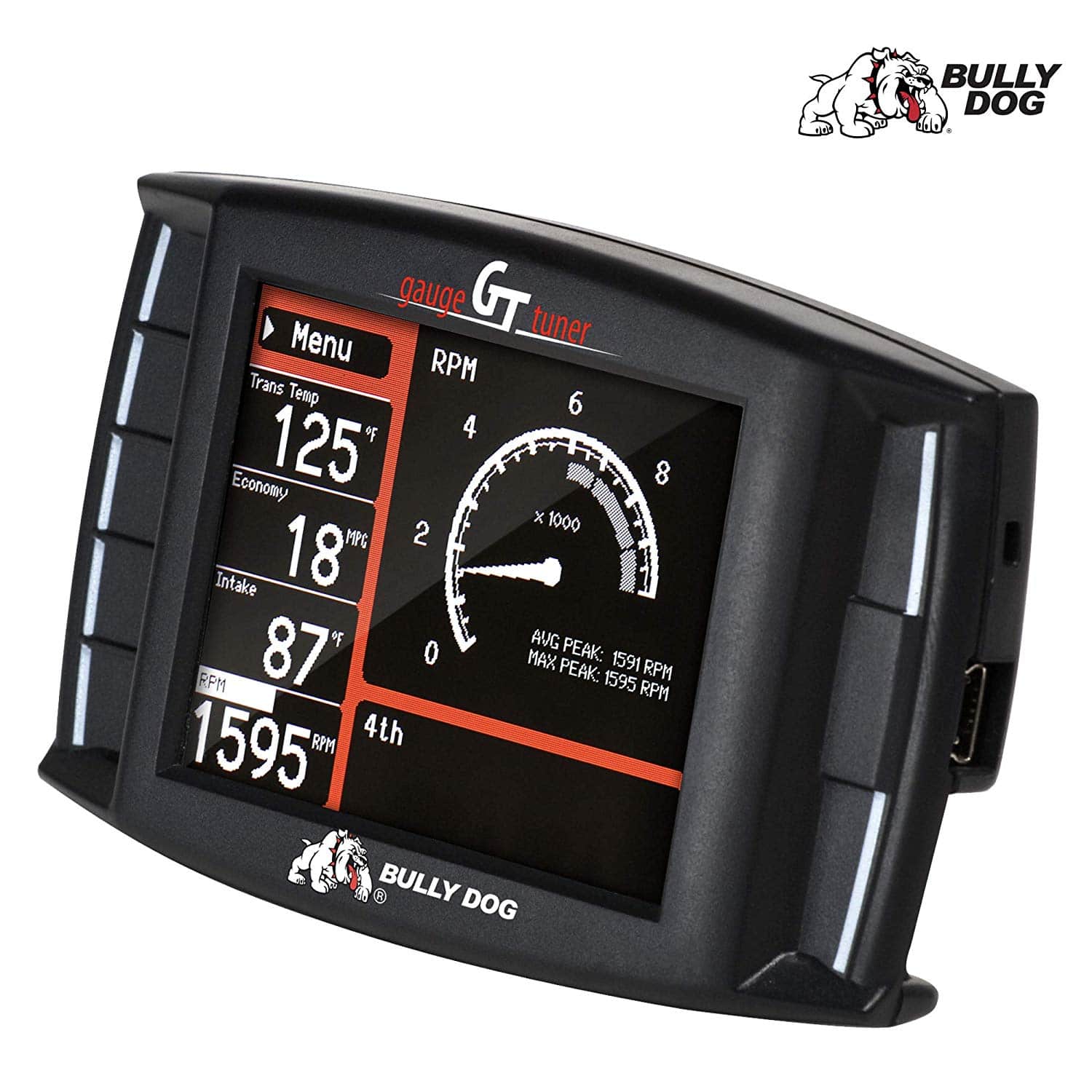 The Bully Dog Performance Tuner is a monitor, vehicle engine tuner, diagnostic device, and gauge all in one device. It enhances the utility of various vehicle applications by providing an increase in torque and horsepower and improves fuel efficiency through better tuning. It monitors and displays more than 15 vehicle parameters, including the new driving coach feature, which educates the drivers on how to maximize the fuel economy potential of their trucks. This tuner performs comprehensive diagnostics by reading and deleting diagnostic trouble codes.
Pros:
Allows users to determine their vehicle's horsepower with the help of PC analysis software
Compatible with various recent models of diesel pickups such as GM, Ford, and Dodge
Comes with a mount that is convenient for on dash monitoring
Stores up to 10 custom tunes
Delivers DYNO proven tunes which increase torque and horsepower
Dynamic LCD mounted on a window, dash, or pillar
Ensures proper engine operation by diagnosing and clearing trouble codes
Saves fuel on long-hauls and while driving around town
Cons:
It might take some time to update the unit
Some models do not see much improvement in fuel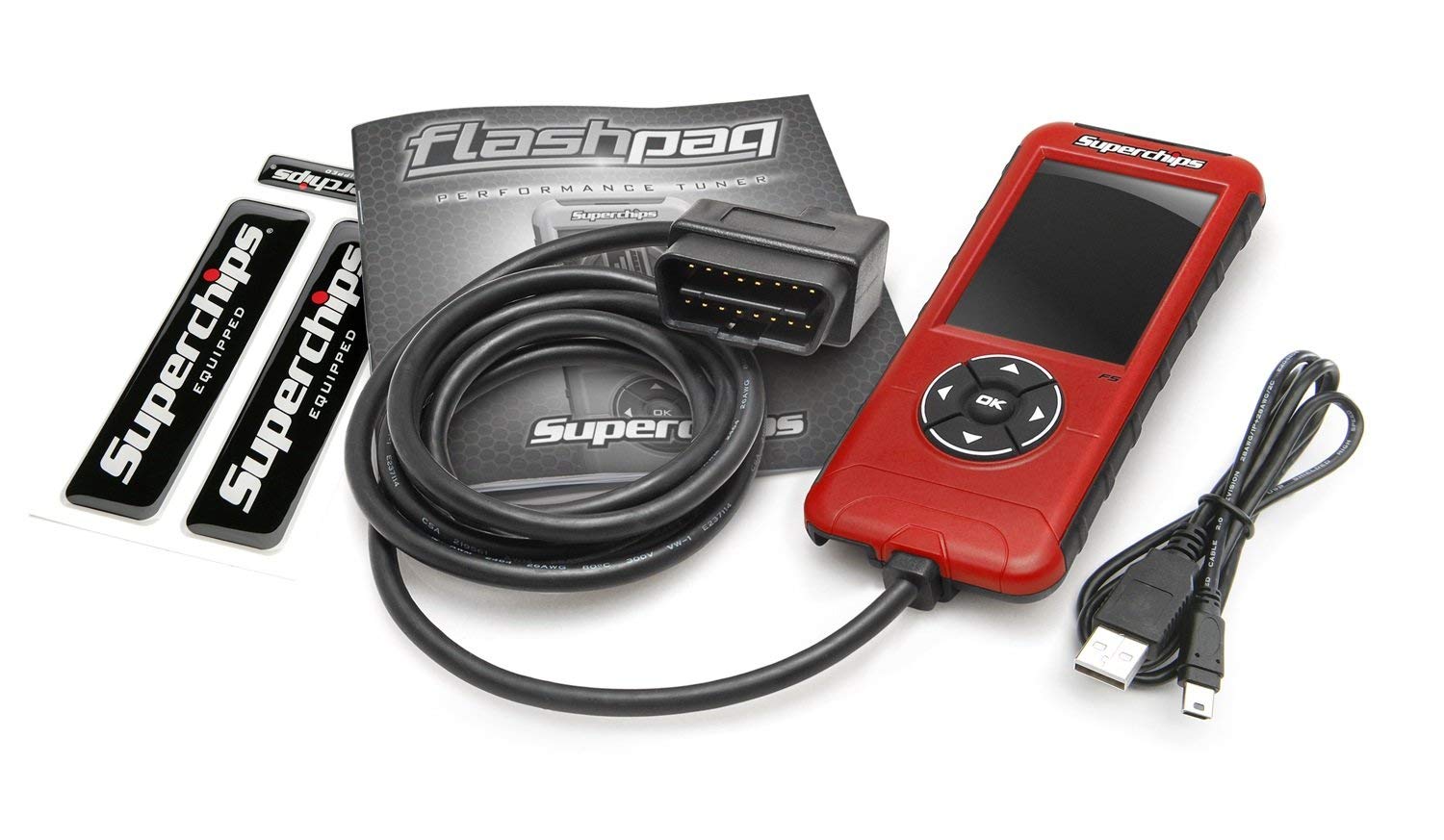 The Superchips F5 Programmer is a leading handheld tuner available. Its easy installation allows you to increase horsepower without using any tools. The user interface combines functionality and simplicity. Its many features include mileage gains, instant horsepower gains, eliminating unneeded downshifting, and improvements in drivability. The 2-year powertrain warranty helps the drivers achieve peace of mind with this purchase.
Pros:
Increased fuel management
8 inches HD screen
A faster processor enables improved tuning
Redesigned graphics interface for better user experience
Speedometer correction for changes in gear ratio and tire size
Cons:
All tuning levels may not be available for some trucks
It might counter some programming error
Diesel Tuner/Programmer Buyers Guide
When you are looking for a diesel tuner for your truck it is important to keep the following considerations in mind:
Features
You should pay special importance to features before deciding on a tuner. Several tuners nowadays have similar features, but some have features that help them stand out from the rest. Look for features such as improvement in fuel economy, torque, and horsepower as they enhance the performance of your engine.
Price
Although it is important to keep your budget in mind, make sure that you buy a tuner that is long-lasting. Carefully review the features so that you can better evaluate which tuner provides greater value for money. When buying electronics, it is better to avoid cheaper models as this would mean poor quality.
Easy installation
Nowadays, many tuners come in the plug and play models that are easy to install. You need to plug the device into the electrical system so that it can start functioning. Make sure that the tuner that you choose comes with an instruction manual so that you can easily install it yourself.
Data monitoring capabilities
Some tuners available today allow you to record and track data in addition to enhancing engine performance. They feature cloud-based restoration capabilities, which can help you save a lot of time.
Easy to use
Make sure that the tuner that you choose has a display that is easy to read and understand. Also, it should be easy to operate.
Enhancements
Although there are tuners that are compatible with a variety of vehicles some will help to bring out the full power potential of your vehicle.
How Diesel Tuners Work
Diesel tuners are small electronic devices that help to optimize the engine performance of diesel trucks. They go beyond the vehicle's firmware to regulate the engine's tuned to the driver's particular needs. Some models also offer a gauge that enables the driver to see how the device is helping.
A tuner is purchased as an aftermarket product. It is a single-purpose mini-computer that has a window-mounted or on-dash monitor and control panel with cables to connect it to the stock engine control module.
Tuners operate by monitoring engine RPMs, turbo boost pressure, airflow, fuel rail pressure, coolant temperature, and other operating considerations like trailer load. It then balances these parameters by altering the electronic tuning features of the engine management system to achieve optimized performance.
Benefits of Diesel Tuners
There are various benefits of diesel tuners. They are:
Improved fuel mileage
Boosts torque and horsepower
Increases engine performance up to 120HP and 240 lbs/ft
Drivers can modify their performance needs by choosing from the available tunes according to the desired operating conditions.
It is not expensive and can be moved from one car to another without any professional help.
It is an investment as it can be sold when it is no longer needed
A tuner is plug-and-go; therefore it can be easily installed and removed without rendering the warranty void
It is very practical as your car can return to original factory settings after the tuner is removed
No wire cutting is involved in the installation
What to look for when buying a Diesel Tuner
Although there are tuners that go well with many different vehicles make sure that the tuner you have chosen works well with your truck. Make sure that you choose a tuner from a well-reputed manufacturer, as this will ensure engine performance maximization without causing any damage to the engine. Also, keep your budget in mind so that you do not buy a tuner that puts a burden on your pocket. Tuners nowadays come with various features. Make sure that the tuner that you choose has all the latest features and comes with custom tunes.
Things to avoid when buying a Diesel Tuner
Avoid buying a low-quality tuner as it could adversely affect your engine performance. There are many different tuners available in the market. Make sure that you compare their features before buying so that you can get the best value for money. Also, avoid buying a tuner that is not compatible with your truck's engine.
Diesel Tuner FAQs
[sc_fs_multi_faq headline-0="h2″ question-0="What is a diesel tuner?" answer-0="Diesel tuners are electronic devices that are engineered to increase your truck's engine power output with the easy plug-and-play installation. They enable your engine to run smoothly and efficiently by providing big boosts regarding horsepower and torque. They also help to save gas money." image-0="" headline-1="h2″ question-1="What does a diesel tuner do?" answer-1="A diesel tuner upgrades your truck's engine power by communicating with your vehicle's computer. The primary function of a diesel tuner is to maximize your truck's overall performance. Tuners also help to customize properties according to driver's preferences which results in better handling, improved power production, and better fuel economy. Diesel Tuners directly download information onto PCM (Powertrain Control Module) thus making power output the main focus of the truck. Tuners can perform a lot of functions such as adjusting injection pressures, boost, pulse width, peak operating range, and increasing injection timing. Some can also increase the top speed limiter, adjust the speedometer to accommodate bigger tires, read diagnostic trouble codes, and firm up transmission shifts." image-1="" headline-2="h2″ question-2="Will a diesel tuner void my warranty?" answer-2="Installing a diesel tuner will likely void your warranty." image-2="" headline-3="h2″ question-3="How to use a diesel programmer?" answer-3="It is very easy to use a diesel programmer. Simply plug it in the OBDII port and completely reprogram the PCM. The uploaded tunes present the control module with features that favor fuel economy and performance." image-3="" count="4″ html="true" css_class=""]
Best tuner for 6.7 Powerstroke: Conclusion
Diesel tuners help to save money and fuel by effectively streamlining and adjusting the engine's fuel parameters thus resulting in improvement of pressure, timing, and quantity of fuel added. It enables the trucks to carry out tasks more easily by working less hard to achieve high performance while using less fuel.
Before buying a diesel tuner make sure that you go through this article as it will help you find one that is best for your truck.