While 2015, 16, 17 Mustang GT can hardly be called short on power, settle for 435 horsepower when you can have even more. Maybe you're just interested in trying to score a few extra MPG out of the V8. Regardless of your reason for upgrading, we're making the decision step a bit easier by bringing together this list to help find the best cold air intake for the 2015 Mustang GT.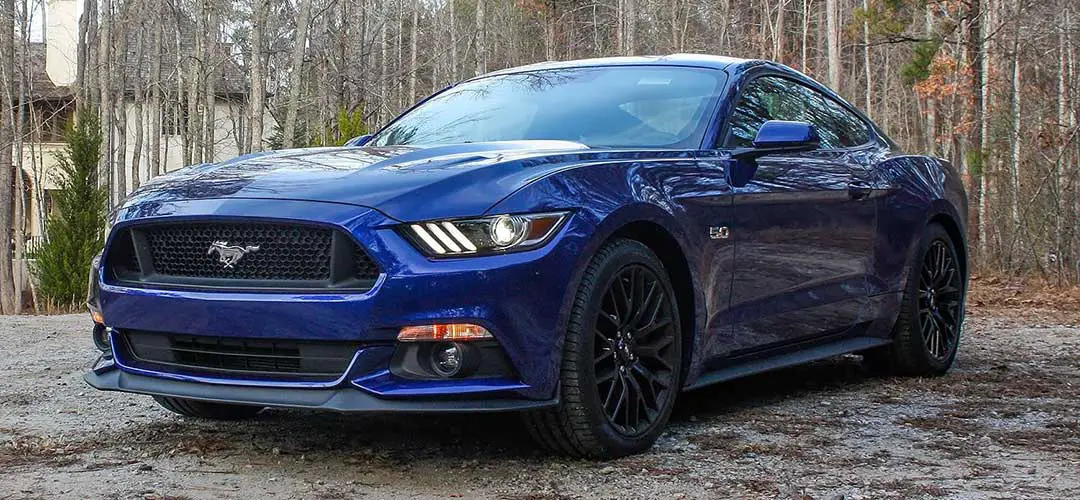 Best Cold Air Intake for 2015 Mustang GT:
#1 – Airaid Cold Air Intake System with Dry Filter 451-328 MXP

"As an Amazon Associate, I earn from qualifying purchases."
#2 – K&N Performance Cold Air Intake Kit with Lifetime Filter 63-2590
#3 – HPS Shortram Air Intake Kit with Heat Shield 27-556WB
#5 – Airaid Race-Style Cold Air Intake System with Synthaflow Oiled Air Filter 450-329
Airaid has been around for about 20 years. Initially focusing just on air intake systems, after a growing customer base with great feedback, they expanded, starting to manufacture their own filters. These days they also make their own range of throttle body performance parts.
Operating out of Phoenix, Airaid's facilities include some of the latest 3D scanning and rapid prototyping technologies. This allows them to stay up to date and build prototypes for the latest released vehicles. Each design gets tested on its in-house dynamometer to ensure it can deliver on its promises.
The stock air filter for the 2015 Ford Mustang GT is a conventional rectangular filter. The cold air intake system from Airaid is a drop-in replacement that includes a one-piece roto-molded air box, air filter, and filter to engine piping. The air intake matches that of the stock filter, but the filter housing is designed to optimize airflow and take full advantage of the large conical air filter that Airaid provides.
The filter box is a traditional black plastic, but the lid is an aluminum frame with a clear Perspex window. This lets you easily monitor the condition of your air filter. The air intake tube is constructed out of cross-linked, high-density polyethylene and has a slightly enlarged diameter. If you have no other modifications on your Mustang the change won't affect the readings of your MAF, but it does allow for future performance upgrades that could benefit from the extra supply.
The Mustang air intake system is relatively easy to switch out, although slightly more complicated than with other vehicles. The air intake tube has several pipes which travel through it, and Airaid has taken care to ensure that their replacement is able to accommodate all of these. The Ford Mustang GT additionally has a pipe to carry engine sound into the cockpit. This pipe connects to the air intake tube. Airaid has included their own pipe to make this connection, helping to reduce airflow resistance, but also gives you the option to just plug the pipe, claiming no discernible difference in performance.
Airaid offers the 451-328 MXP with the choice of either a conventional oiled filter or one of three different colored dry air filters. While a dry air filter is often preferred, requiring less frequent replacement as it is easily washable, washable oil filters are a preference for some owners. Prices between the different filter options do differ, but not consistently.
While the Airaid 451-328 installs without the need for any special tools and makes a great visual upgrade to your engine bay, more importantly, Airaid guarantees superior power and thus acceleration gains from the cold air intake system, and their customers are quick to support these statements too.
The Airaid 451-328 receives the highest reliable customer feedback rating with all customers either claiming a performance increase or improved gas mileage after the installation. From a price perspective, this product is neither the most expensive nor the cheapest, but there is little difference between the products when it comes to cost. On a final note, one should be aware that this air filter is not permitted for sale or use in California as it does not conform to the California Air Resources Board (CARB) regulations.
K&N Engineering is one of the most well-known after-market products companies in the US, and in our opinion, they make the second-best cold air intake for the 2015 Mustang GT. Their heritage stretches back almost 60 years to their headquarters in Riverside, California. They've even expanded with facilities in England and the Netherlands.
All the products they design get tested out on-site, being put through the paces on a variety of equipment, including flow benches, vibration test equipment, and dynamometers. They do all of this to ensure customer satisfaction and to support their million-mile limited warranty which covers their air intake systems as well as some other products.
The most noticeable difference between this K&N 63-2590 cold air intake and the Airaid 451-328 is K&Ns open design. Whereas the Airaid made use of the stock air intakes on the front of the Mustang, the K&N blocks off a section of the engine bay from which to draw air. When installed, the heat guards form a neat filter box in the front left of the car. This means more air is available to the filter, and that is cool air, not yet affected by the engine's heat.
The design moves the air intake point slightly and places a large conical filter slightly further away from the engine intake itself. The filter is one of K&N's performance lifetime filters, which can be hand washed when getting too dirty. The placement means you have a slightly longer intake tube to the engine, but it's long and straight, so the little impact will be noted thanks to its free-flowing, high-density polyethylene composition. If you prefer the shiny metal look, you can also opt to swap that out for an aluminum tube, although it comes at a bit of a cost. Other options include an all-black kit where the red filter and silver hose clamps are switched out for darker options.
The K&N 53-2590 kit is as easy to install as other options and as expected, is guaranteed to increase horsepower, with the designers aiming to improve throttle response. All the necessary through pipe mountings are located as expected and clip in as easily as onto the stock housing.
K&N's offering has also received very good customer feedback. With almost 90% of respondents giving it a 5-star rating, saying that it lived up to their expectations from the K&N brand. If you're looking to save a couple of bucks, the base offering is the cheapest on our list of best cold air intakes for the 2015 Mustang GT, so maybe that will help you make your decision a bit easier. For California residents, though, keep in mind that this cold air intake kit is not CARB compliant.
If engines are involved, HPS performance products are there. Based out of the City of Industry in California, they have offerings in the aerospace, automotive, marine, construction, agriculture, and many other industries. With a focus on silicone hose kits, they also produce air intake systems and other flow-related items.
The HPS 27-556WB has a very similar design to the K&N offering, with a large conical filter open to the engine bay, protected by a heat shield, creating its own filter box. The heat shield is made out of heavy-duty, powder-coated steel, and helps deliver a maximum cooling effect. The filter that HPS provides with their kit is actually one of K&N's dry washable air filters.
The stock kit is provided with a 4", wrinkle black, lightweight aluminum alloy pipe with all the pipe fittings to make it an easy replacement. If you're not a fan of the wrinkle black option, you can opt for a plain polished aluminum part, or even a bright blue or red variant.
The kit has been proven on a dynamometer, with performance increases of 18 hp and 22 ft. lbs noted as well as improved throttle response. The kit was designed for performance, and it can be achieved without another tuning, but is not CARB compliant. The product has not received many customer reviews, but there are, are positive, impressed by the performance upgrade.
Corsa shouldn't need much of an introduction. They're another big name in the performance upgrade arena, with notable ties to the racing industry. With almost a 20-year history, Corsa got started with exhaust systems and their patented Reflective Sound Cancellation Technology. From there, the obvious path was forwards, so they followed the exhaust forward to the engine and now manufacture a number of other engine modification products.
The Corsa 419950 is a closed box design, very similar in appearance to the Airaid product we kicked off this review with. The most notable difference is Corsa's option of a flat, black lid to the box. The air intake matches that of the stock air intake system, but the box design focuses on minimizing turbulence and maximizing air pressure and flow. Further to that is the goal of keeping air temperatures down.
Corsa doesn't provide too many more details on the product. They do comment that it is engineered to help maximize your engine's power but don't make any guarantee claims. Instead, they focus on the design aspects, including silicone connectors, marine-grade clamps, and specifically sculpted designs with large diameters and unique bends. The provided air filter is a pre-oiled filter that can be cleaned.
While the product has sold, there is no customer feedback at present. We've come to expect only good things from Corsa, so would have no concerns installing this product in our car. It appears well made, and with a matching design to Airaid, performance improvements should be similar. The air intake system is not CARB compliant.
We looked at an Airaid product earlier; that one had a closed box design. But regardless of potential performance differences, many people just prefer an open box design. Not to be left out of the market, Airaid thus also manufacture what, in their words, is a race-style cold air intake. In fact, they recommend it as a race-only modification to be done in conjunction with other performance upgrades.
The design works quite nicely, with cold air dam panels made of steel that block off an area of the engine bay to form your new filter box. The panels ensure minimal heat intrusion and have rubber fittings on top to help them seal against the hood.
An oversized Airaid air filter is used and connects to an optimized air tube to the engine, which has all your standard pipe fittings. Airaid does stress that due to the design of the air intake system, as well as the air filter selection, this kit should only be used in dry, controlled race conditions.
If you're going to be spending some time on the track, then definitely consider this option from Airaid. If you're just looking for something to spruce up your Mustang and expect to keep it on the road, we'd recommend Airaid's closed box offering instead.
Benefits of a Cold Air Intake
If you've got a Mustang GT, you're probably not too concerned about your gas mileage. As such, the most likely reason you'd choose to replace your air intake system is to get some performance improvements.
Cold air intakes work to increase the amount of oxygen that makes it to the engine cylinder, thus increasing engine power. They do this in a number of ways. Firstly, they work to minimize any resistance to airflow. This often includes an oversized air filter, as well as fittings with increased diameters and smoother curves.
They also try to reduce the temperature of the air flowing into the engine. This helps increase its density. This can be done using heat shields, as well as selecting different areas of the car from which to draw air in.
Depending on how you choose to drive your car, you may also be able to improve your gas mileage. By increasing the maximum potential power of your engine but not utilizing it to its full extent, you may be able to reduce the amount of gas you use.
Other reasons people choose to replace their air intake systems include:
Better engine noise is deeper and more powerful, especially when accelerating.
Replacement air intake kits are usually more visually appealing, often featuring bright colors or polished aluminum.
Most kits also come with air filters that are washable or reusable. This means you don't have to be replacement air filters as often.
Conclusion
With many buying decisions in life, your choices are made easier by a budget. Competing products often have significantly different prices, allowing you to rule some out. Unfortunately, the best cold air intakes for the 2015 Mustang GT all hover around the same level. Fortunately, we've given you a number of other things to consider, and we think you'll agree that the best cold air intake for the 2015 Mustang GT is the Airaid 451-328 MXP Red Cold.
Images: Wallpapercave, Amazon