The Toyota Tundra is one of the most reliable trucks on the market and has a loyal cult following. As is the case with other trucks, straight from the factory, the stock suspension causes it to rake forward. You're here to level it out, which is why we've compiled a list of the best leveling kits for your Toyota Tundra.
4 Best Leveling Kits for Toyota Tundra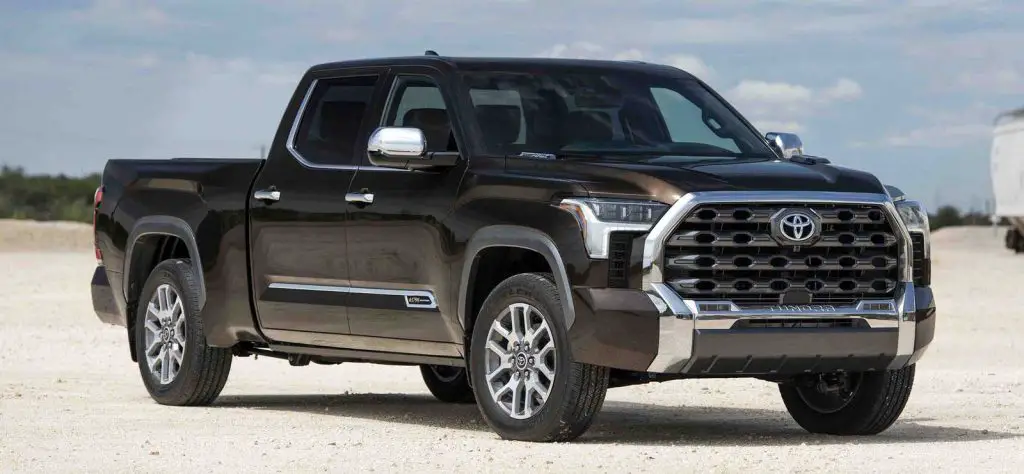 "As an Amazon Associate, I earn from qualifying purchases."
4 Best Leveling Kits for Toyota Tundra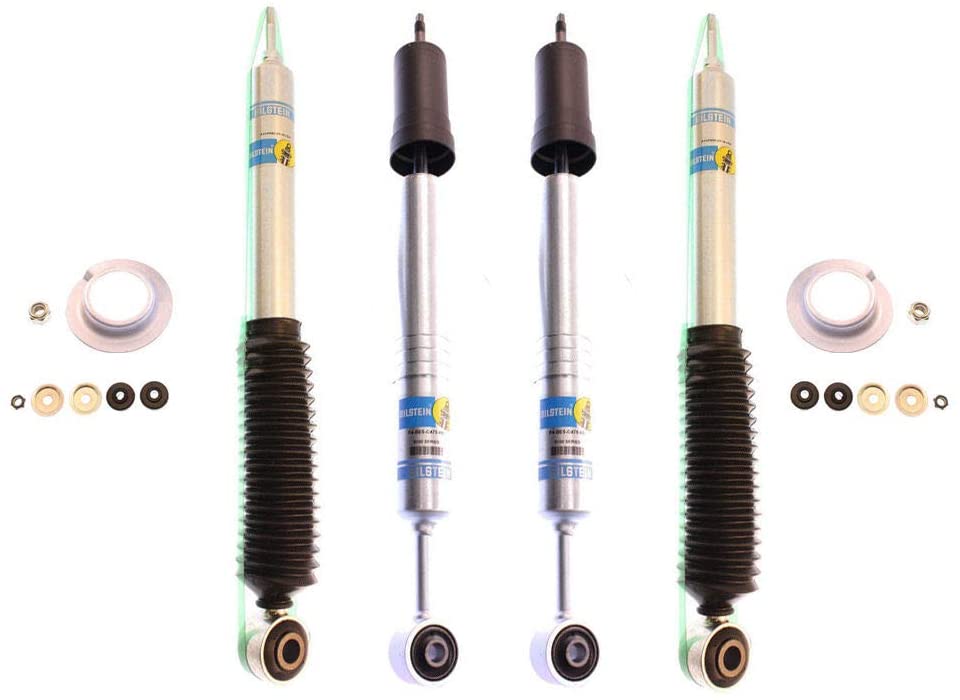 This Bilstein Shocks leveling kit knocks it out of the park. This leveling kit comes with a set of two shocks and two struts that fit a Toyota Tundra like a glove. It comes with all of the hardware that you need, so you won't need to fret over missing bushings, washers, or nuts to get it installed.
The only thing that is not included in the rear shock hardware. This Bilstein leveling kit hits the top spot because it provides excellent, firm handling. As a result, truck owners can use the kit easily.
The design is one of the reasons that makes this leveling kit gain the first spot on our list. Because it is a monotube gas shock absorber, heat from the oil spreads evenly and goes to the outside of the shock body. As it heats up, you won't experience oil foaming.
You can also get great damping out of this leveling kit. This is made possible by the big working piston area that is available on the product. The kit is also Zinc plated, making the Bilstein 5100 highly durable. Because of that, you don't have to worry about this kit giving away and wearing out quickly.
Bilstein is also a popular brand due to the excellent features that it holds. The products they provide receive a high customer satisfaction rate. Every Bilstein kit is stable and easy to use!
The Readylift 3.0" SST also provides a leveled stance for your Toyota Tundra. It has a 1" tapered rear block that can level out just about any Tundra truck. As such, this leveling kit is not compatible with the 2015 Tundra TRD Pro, which has Bilstein shocks, as well as a few others. Take note that you need to see the compatibility of the kit and your truck model to ensure that you will not experience any problems in using the product.
It is not a bad idea to get this leveling kit professionally installed. You can expect roughly two or three hours before this kit is installed, even when done by a professional. The thing that is great about this leveling kit is that it lets you run a plus-1 larger tire than you would be able to with other kits.
None of this should come as a surprise because it is manufactured by a well-known brand, such as Readylift. This company has a huge selection of leveling and lift kits that earned a great reputation in the market. In fact, the demands for their products keep on increasing every year. Their make and model-specific gear are also excellent.
With this product, you can expect your truck to be lifted between 2.5"-3" front lift. It comes with sway bar drop brackets, which keep your truck highly secured. The only real deterrent with this kit is that it is not compatible with all Toyota Tundras, so you will need to check your year to know for sure.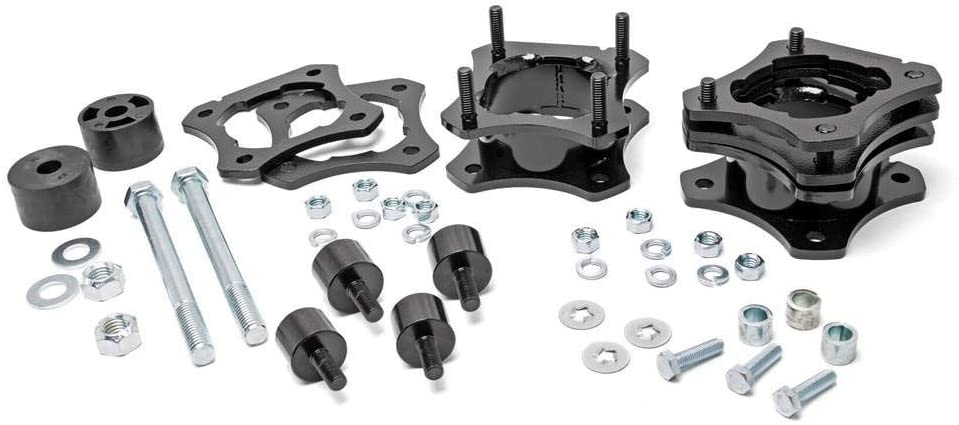 This leveling kit is versatile and levels your Tundra both in the front and rear ends. As such, you have absolute control over how to choose the right angle that is perfect for your own needs. Included with this kit are two sets of .25" shims that give you up to a 3/8" lift on each side.
These shims can be used like the strut spacers to add to your lift. Depending on your needs, such as pulling trailers or big hauls, you may want to use less or more. The Rough Country 2-3" leveling kit is compatible with tires going up to 33".
I will say that installing this kit is fast and easy. While you can do it yourself, it is still best to go to a professional to ensure that you will not commit mistakes in the installation process. It also takes a lot of effort to get rid of or add shims. As such, once you select a specific length for the lift, it is best to keep it that way. Do not keep on changing it to avoid any issue in the use of leveling kits.
Rough Country has a good track record in the making of automotive parts or products. Everything from their lift and leveling kits to their steering stabilizers holds up well. They are good about making it compatibly transparent and a non-issue.
Supreme Suspensions did a great job with this leveling kit. This leveling kit is durable and made with strong and sturdy steel and aluminum. It comes with two steel rear blocks that work to improve ground clearance and make for a better ride. This is one of the reasons why many truck owners also love this brand.
The ratio of lift height to front spacer thickness is not 1:1. When you install the strut spacers, you wind up with a little bit more lift than the spacer thickness would suggest. That is because the lower control arm is affected by the installation.
Supreme Suspensions always does a good job of making products that come with easy installation features. Every Supreme Suspensions kit I have tried has been accessible, and if I needed a mechanic to install it for me, I'm sure they would say the same.
Besides just making your Tundra truck achieve a higher level, it also gives you more options for bigger tires and rims. This product is a well-rounded leveling kit, and installation time maxes out at roughly four hours.
Toyota Tundra Leveling Kit ULTIMATE Buyers Guide
Before going with a leveling kit for your Toyota Tundra, there are many things to consider. Maybe you haven't had experience with leveling kits before, or maybe you simply have not tried one out with your Toyota Tundra yet. Let's dive into why they are useful and what you should consider before getting your hands on a new leveling kit.
What Are the Benefits of a Leveling Kit?
One thing that draws people to leveling kits is that they let you throw big tires on your truck. A leveling kit is a great budget solution if it is added height that you need for your truck. Not only are they relatively inexpensive, but installation is easy and can be done without professional help.
Take note, however, that installation processes may vary from one type of leveling kit to another. That said, if you are not comfortable, then you should take it to a professional. If you pull trailers or other cars, a leveling kit is very helpful. Pickup trucks have a good amount of clearance, but on their own, they can't accommodate all situations. Nose-down trucks can also be an eyesore to the owner, and some buy leveling kits for that sole reason.
Leveling kits work to bring the front end up to a good height. Not only does that look good, but it makes for better, safer hauling in general. Some leveling kits are also noticeable when driving, while others simply level you out.
What to Consider When Selecting a Leveling Kit
There are several factors to take into consideration when it comes to getting the best leveling kit for your truck. The first thing that you have to do is to think about your own needs or preferences. Make sure to double-check that the leveling kit in question is compatible with your specific Toyota Tundra. Keep in mind that not all kits work with every make and model of any given track. If you choose the wrong one, you may end up buying a kit that does not go well with your truck.
Next, take a hard look at your truck. Whether your car has coil springs, coil-over strut front extensions, or torsion bar suspension systems, the leveling kit choices you have will be limited.
Whether you need support in hauling trailers or want a firm ride, a leveling kit is the right product to get. At the same time, consider your automotive expertise in choosing the right item to purchase. If possible, try to consult with a professional when it comes to buying the ideal leveling kit for your Toyota Tundra. If you know that you want a leveling kit but do not have an idea on which one or how to install it, do not hesitate to consult with an expert. It's not worth damaging your own truck when you're only trying to customize it.
Leveling Kit vs. Lift Kit. Which is Better?
Leveling kits and lift kits are similar in concept but serve slightly different functions. Lift kits are different because of how they affect your truck's level. They can also make a truck stand level, but in a different way than leveling kits.
Lift kits work on lifting the rear and front ends of the truck, whereas leveling kits only focus on the front. They can offer more lift height in some cases as well. With that said, that does not mean that lift kits are better than leveling kits by any means.
Leveling kits let you work with bigger tires and rims, which is a massive advantage for truck owners. They also allow for a strong, level stance and great front clearance. If that is what you are in need of, then I would say that leveling kits are better than lift kits. That all depends, however, on your own needs for your truck.
Leveling Kit for Tundra FAQs
Leveling kits increase ground clearance. They lift the body of the truck off of the axles and let you add larger than factory standard tires. They level the front to the rear eliminating the nose-to-the-ground effect that trucks have out of the dealership.
The answer to this question depends entirely on the leveling kit that you are dealing with. Say for instance, that you've got a 1.5 or 2" leveling kit; in that case, your maximum tire and rim size would be 18".
With something like the Rough Country leveling kit, you can expect all the way up to 33 inches. Check the specifications on the leveling kit that you are interested in to avoid any errors.
Leveling kits are way easier to install than a lift kit. If you are inexperienced with working on cars, uncomfortable in doing so, or don't have the necessary tools, do not have second thoughts about taking your car to a shop. You will need a floor jack, several wrenches, a screwdriver, a hammer, pliers, several nuts and screws, a ratchet, a torque wrench, and a PB blaster.
Depending on what kind of leveling kit you are using, the installation will vary. Let's use a spring compressor kit as an example.
1. Block off your tires and lift your car with a hydraulic jack.
2. Remove the tires, jack it up higher, and safely add the spring compressor. 
3. Remove the spring clip, shocks, and sway bar link.
4. Lower the axle housing and remove the coil.
5. Install the spring spacers and put the spring where it originally was.
6. Jack the car back up and secure it, then attach the retaining clip.
7. Put the tires back on and bring the truck back on down.
For safety reasons, having a mechanic install it is a good idea. Unless you have the necessary equipment and experience, a mechanic is a safe bet. They have all the tools needed and have done it plenty of times before. Mechanics can complete the installation process quickly.
Safety is key, and that is not an issue when you have an automotive expert dealing with it.
Yes, it certainly does. Some leveling kits will be more subtle than others, but many make for a firm ride. It adds weight to the ride that is most noticeable while not hauling anything.
If a leveling kit does not directly affect ride quality, it at least affects height. No more turned-down nose on your Toyota Tundra.
Best leveling kits for Toyota tundra: Conclusion
As you can see, all four of these Toyota Tundra leveling kits have tons of advantages to offer. The Bilstein takes the top spot because of how durable and long-lasting it is. It also performs quite well, and installation time is a breeze whether you are doing it on your own or with a car mechanic's assistance.
Be sure to check the features of the items featured on this list. Do not rush the process of selecting the right brand for you. Otherwise, you might end up buying something that is not worth your money. Take note that the installation time is roughly the same for all of the leveling kits touched on here.
Leveling kits are considered a must-have for Toyota Tundra owners, and they bring a lot to the table. Whether you just want your truck level to increase, want to boost performance, or want to work with bigger tires, a leveling kit comes in handy.